My gay porn videos and gay porn pics of Charlie Pattinson.
Hair Color: Blonde
Sign: Capricorn
Eye Color: Green
Dick Size: 7 inch dick
Height: 5'10"
Cut / Uncut: Cut / Circumcised
Weight: 170lbs
Sexual Positions: Top
Charlie Pattinson gay porn scenes at Next Door Buddies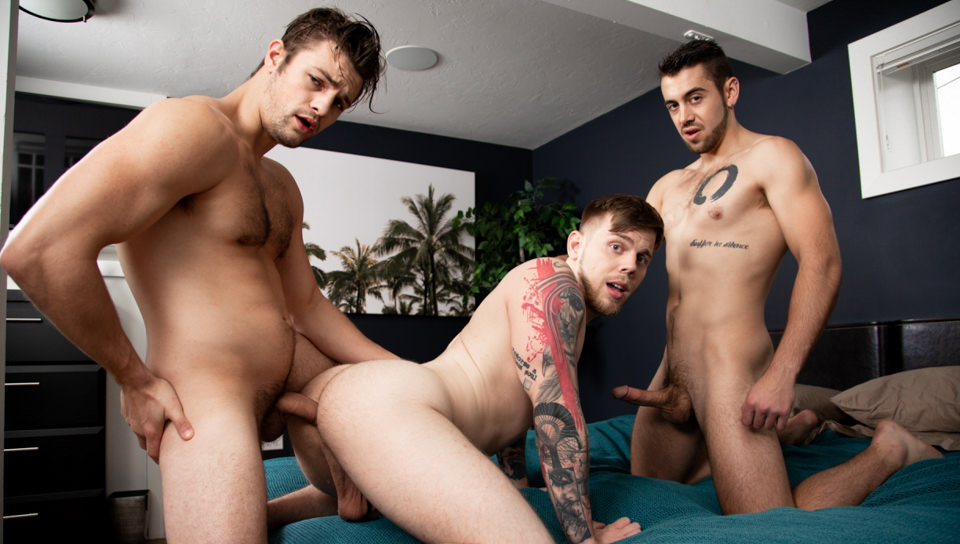 For Charlie Pattinson and Dante Colle, either fortune is on their side or they really are just a pair of step-brothers who are hot enough to fuck anyone they want, but whatever the case may be, they two of them are on a hot streak that has given them the confidence of past successes, but also the hunger for more.
Poor Charlie can't wait til the weekend, so he just selects a random jogger off the street and decides to turn him into their sex slave. Just Steve Rickz's luck: went out for a jog, ended up with a fuck….Join them!
Charlie Pattinson gay porn scenes at Next Door Studios
When Cayden Stone signed up for this class, he thought he'd gain a new appreciation for fine works of art, but seeing model Charlie Pattinson disrobed before him as suddenly prompted him to find real inspiration.
Charlie models for the money but finding a quick hookup is always a nice bonus. He can sense the chemistry between the two of them and tells Cayden to meet him after the class out behind the maintenance building.
But as they sneak a fuck before anyone busts them, they should beware: prying eyes are spying, and jealousy is in the air…Join them!
Alex Tanner has a secret, and his name is Charlie Pattinson. Alex's parents don't know about Charlie, and that's exactly how he'd like to keep things for the moment, but Charlie's cock sure is tempting.
Alex doesn't want to get caught, but he can't stop imagining Charlie's thick meat inside his mouth, sliding down his throat, then flipping him over and pounding him until he can't take it any longer.
He decides to sneak Charlie in for a quickie, and Charlie proves to be quite the back door man, stripping Alex out of his clothes and sucking him off before fucking his brains out all over the bed.
Alex doesn't know why he waited so long to invite Charlie in, but now that he's there, he's making it his. He fucks the cum out of Alex, who moans without fear of getting caught as Charlie blasts him with his back door load, before sneaking out the same way he came…Join them!
It seems Scott Finn's hard work has finally paid off, as boss man Charlie Pattinson calls him into the office for a meeting. Charlie tells him there's good news, and good news. The good news is that Scott will be getting the promotion he's been seeking.
The other good news is that this promotion will have him working directly under Charlie from here on out. Scott nods, but as his boss draws nearer and begins to unbutton his shirt, Scott realizes that Charlie means 'under' in a literal sense.
Moments later, Scott's assumptions are proven correct, as Charlie is pounding him on the desk. He long dicks Scott all over his office, fucking Scott's perfect little ass to his heart's content.
Charlie fucks him every way he can think of, and Scott shows his versatility, passing with flying colors. By the time Charlie unleashes his big boss load all over Scott, he realizes he's made the right choice for this position, and any other position he can think of…Join them!
Dante Colle is feeling pretty low on his anniversary, but luckily for him, good friend Charlie Pattinson is around to console him on this most auspicious day.
Dante is reeling from the break up, and he's feeling it more than ever today, but Charlie is already on the way over to make sure Dante isn't spending this anniversary alone.
When he arrives, Dante asks what he has in mind, and Charlie tells him they should spend the anniversary the way they are supposed to be spent.
Smiling, he leads him back to the bedroom and lays him down, then proceeds to give Dante a fuck he won't soon forget, and one that makes it hard for him to remember why he was even sad in the first place.
With friends like Charlie, who needs lovers?…Join them!
Charlie Pattinson has invited Michael Del Ray over to make a little POV video for Charlie's online followers, and he's excited for two reasons. First of all, he knows the video will be hot as fuck for all his followers, but more importantly, Charlie is looking forward to getting to fuck Michael, something he's been eyeing since he started with us.
For his part, Michael is just as excited to show off. Ever the exhibitionist, Michael wastes no time getting naked as Charlie lays him back on the bed. He has Michael hold the phone and film him as he sucks Michael's massive cock, and as it gets hard in Charlie's mouth, Michael captures every moment.
Flipping positions, Michael deep throats Charlie as the camera pushes in, and once Charlie is nice and hard, he tells Michael to bend over. From there, Charlie has his way with Michael, fucking him all over the bed. As Michael rides him, he looks back at Charlie and it makes Charlie want to shoot his load deep inside Michael.
He holds off, though, flipping Michael onto his back and pounding the cum out of him. Michael spits a huge load all over himself as Charlie pulls out and shoots an even bigger load right into the camera, drenching Michael in the process as the two of them laugh giddily at the thought of the response it will get online…Join them!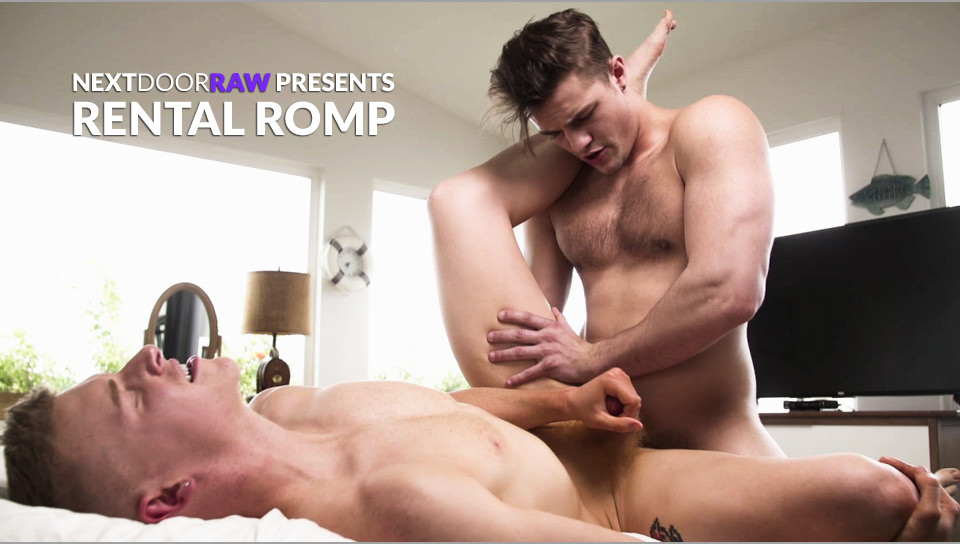 One look at his rental guest and Alex Tanner realizes he's made a good decision.
His renter, Charlie Pattinson, is only in town for a night or two, and Alex intends on making his stay as pleasurable as possible.
Charlie was just looking for a nice spot to rest his head at night while he's in town, but when he comes home and finds Alex nose deep in his underwear, Charlie realizes he's about to get a lot more than he bargained for.
Alex proves to be quite the gracious host, and he proceeds to take care of Charlie's every need, downing his cock in his mouth and working Charlie's hole with his finger before turning around and giving Charlie all the ass access he could hope for.
Charlie doesn't squander the offering, plunging his raw cock deep inside Alex' hole, pounding him all over the bedroom. Alex rides his dick like a champ, and Charlie wonders if Alex treats all his guests this way.
Charlie, in turn, gives Alex a healthy helping of that good dick, fucking the cum out of him as Alex moans and squirms on the tip of Charlie's cock.
Charlie pulls out and shoots a massive load all over Alex, who rubs the cum into his skin and smiles at the setting sun.
'We still have the rest of the night to go,' he says to Charlie, who realizes he might have to extend his stay a little longer…Join them!
When Chris Blades comes home to find porn running in the living room, he realizes roomie Charlie Pattinson has been bullshitting him about being sick.
He enters Charlie's room to find him in bed pretending to be tired, but when he rouses Charlie's covers and tells him to get up, he instead finds his roommate naked and ready for action.
Chris asks Charlie if he needs a remedy for what's ailing him, already working his way down Charlie's body to his waistline. Looking Charlie in the eye, he takes the cock in front of him gently between hilips, giving his roommate slow head as Charlie gets hard inside his mouth.
Chris begins to stroke himself off at the thought of Charlie's dick pounding his hole, and Charlie is getting more and more comfortable at the idea of his roommate sucking him off, returning the favor before fucking Chris all over the bed.
Charlie gives him everything he has, fucking Chris missionary before letting him mount his bareback dick. Chris rides like a pro as he strokes himself, and Charlie bounces his ass up and down on his cock as Chris loses his nut all over himsef.
Charlie keeps fucking Chris from behind as Chris quivers from his orgasm, and the tension in Chris' hole makes Charlie ready to burst, so he pulls out and nuts all over Chris' ass.
As he falls back on the pillow, he realizes Chris is right, and that he suddenly feels much, much better…Join them!
In hot pursuit of his target, Charlie Pattinson is locked and loaded, ready to shoot off just as soon as he locates the object of his desire.
Lance Ford is waiting by the bed to ambush him, but as Charlie enters, he lets his best shot fly and scores, sending Chad flailing onto the bed.
Charlie quickly moves in to help resuscitate Lance. Charlie whips out his cock and showing it to Lance. Lance deep throats it and Charlie moans with delight.
He returns the favor, moistening up Lance's hole and stroking himself. Lance mounts him as he plunges his raw cock deep inside Lance's hole.
Lance bounces on his bareback dick and spreads his legs as Charlie jerks him off. Lance's pre-cum oozes out as Charlie's big dick fills him up.
Charlie fucks him all over the bed, bending him over and fucking him doggy before flipping him over.
He fucks the cum out of Lance and then shoots his own load all over him. Lance, covered in Charlie's jizz, tells him that's the 2nd time he's been shot in the same day…Join them!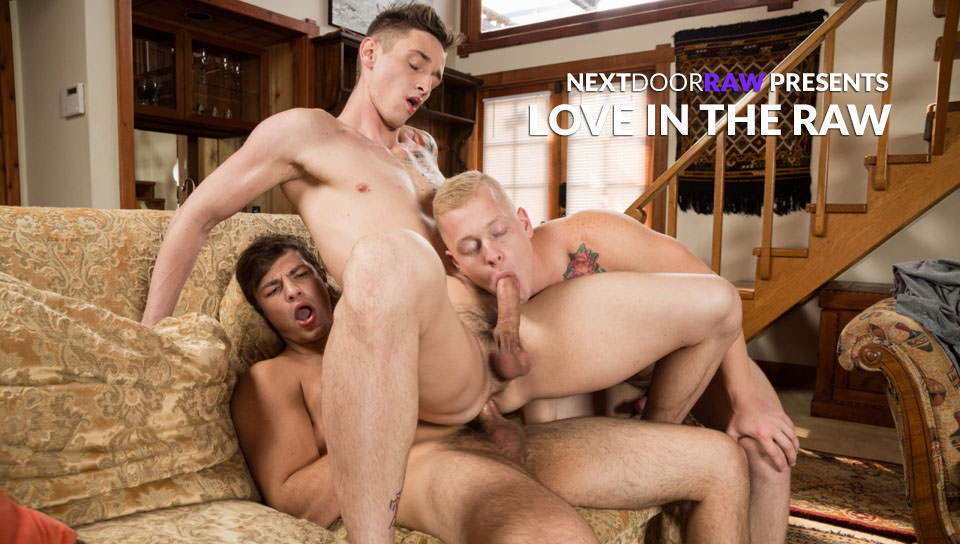 Out for a holiday drive, Leo Luckett and Lance Ford spot a wanderer on the side of the road.
Leo thinks nothing of it but Lance has seen the guy walking around town for a few days now, and despite his disheveled appearance, Lance thinks he and Leo can help the guy get back on his feet.
Charlie Pattinson is more than gracious for their help, and when the two of them set him up in their guest house, he feels like he's hit the lottery.
But Charlie's luck has just begun. Over the course of the next few days, he learns that Lance and Leo are in an open relationship, and he begins to wonder if maybe there isn't something to such a lifestyle.
When Lance catches him spying on him through the window, he invites Charlie inside and they talk about Charlie's sudden feelings on the subject.
Lance tells him he'll never know what it's like if he never tries it, as Leo makes his way down the stairs.
Charlie thinks about it and decides now is the time for him to engage in his fantasies, and that Lance and Leo are the perfect pairs to show him the ropes. What follows is an experience young Charlie will never forget…Join them!
Charlie Pattinson gay porn scenes at Men.com
Charlie Pattinson's late on rent again. When the building manager Will Braun comes over to collect it from him, he pulls one of his classic seduction techniques to get him to do his bidding. As soon as Charlie drops his pants, Will is in a deep trance—the only thing that will break that trance is Charlie slamming his dick deep up inside him. It seems the rent check can wait…Join them!