Every gay porn video and gay porn image gallery of Beau Reed.
Hair Color: Brown
Sign: Unknown
Eye Color: Brown
Dick Size: 7.5-inch dick
Height: 5'11"
Cut / Uncut: Cut / Circumcised
Weight: 165lbs
Sexual Positions: Bottom
Breed Me Raw gay porn scenes of Beau Reed
Seeking Seed was on Beau Reed's agenda for the weekend but he is supposed to get seed from his Daddy first and THEN get permission to get more seed from other slut tops.
For some reason, his Daddy was not responding and Beau was getting desperate by the hour. So, Beau texts his previous owner, Luke Harrington, hoping he was around and available to sink his 9″x 6″ daddy cock in his slut hole and dump a load.
Luke could not say no and before you knew it Beau was on his knees servicing Luke's cock. Beau felt so guilty for taking raw cock without his Daddy's permission that he left in a hurry as soon as he was seeded.
He knew that his Daddy was gonna find out and did not know how he was gonna deal with this. Who is Beau's Daddy?…Join them!
Men gay porn scenes of Beau Reed
Beau Reed gives his workers Teddy Torres, Ethan Chase and William Sawyer a little bonus in the form of a free pass to his ass…Join them!
Beau Reed services one of his workers, Ethan Chase, while on the job…Join them!
Next Door Ebony gay porn scenes of Beau Reed
As soon as Beau Reed gets his hands on client River Wilson's tense muscles, he knows River is long overdue for some serious body work, but when River's hands get active in return, it turns out that Beau is on the receiving end of the deep physical therapy.
River might be sore from his workouts but that doesn't stop him from taking advantage of the ass in front of him, and what a sweet ass Beau has for the pounding.
River tongues Beau's hole before bending him over and giving him a different kind of massage, fucking him from behind as Beau takes the dick like a champ.
River busts his nut all over Beau's face and chest, before watching Beau coat himself in his own spunk as River fingers his freshly fucked hole.
Seeing Beau covered in jizz, River suddenly realizes what Beau means when he advertises 'Full Service Massages.'…Join them!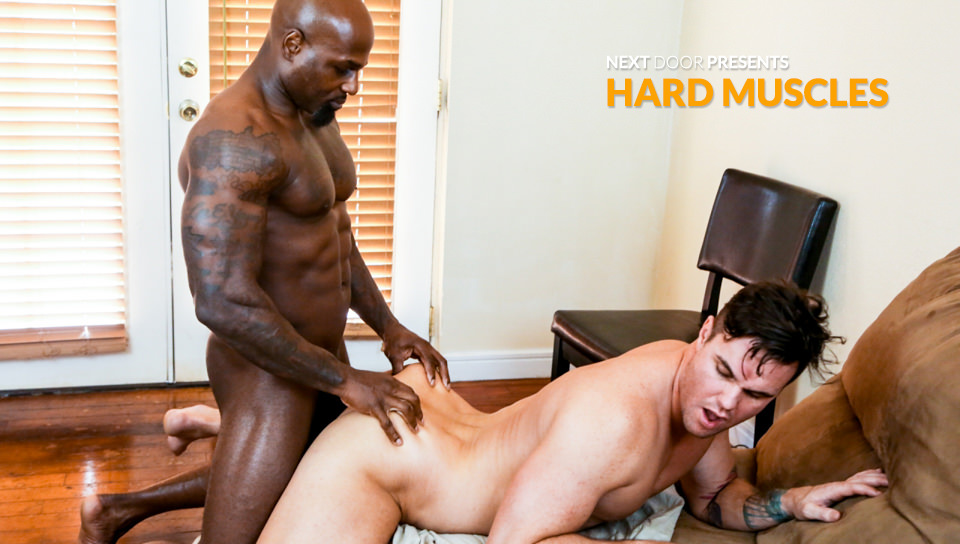 Newcomer Darion is leading Beau Reed through his normal workout regimen. All the standard stuff: stretching, cardio, push ups, crunches and Darion's body certainly shows the rewards of his hard work, but at the completion of the workout, Beau is still full of energy, and so he takes the opportunity to lead Darion in a different kind of exercise, as the two of them make their way inside.
Once there, Beau falls to his knees, sucking Darion's meatstick until it's nice and hard, then stroking him up while tonguing his hole. Darion approves of this kind of workout, and shows he's a fast learner, bending Beau over and plunging his cock deep inside, pounding Beau from from behind as his chest and arms tense up.
Beau enjoys the pounding, taking every inch of Darion's offering gladly, before spitting his load all over himself as Darion strokes off onto his face. Having covered his workout partner in cum, Darion remarks that it was one of the best workouts ever. Beau agrees…Join them!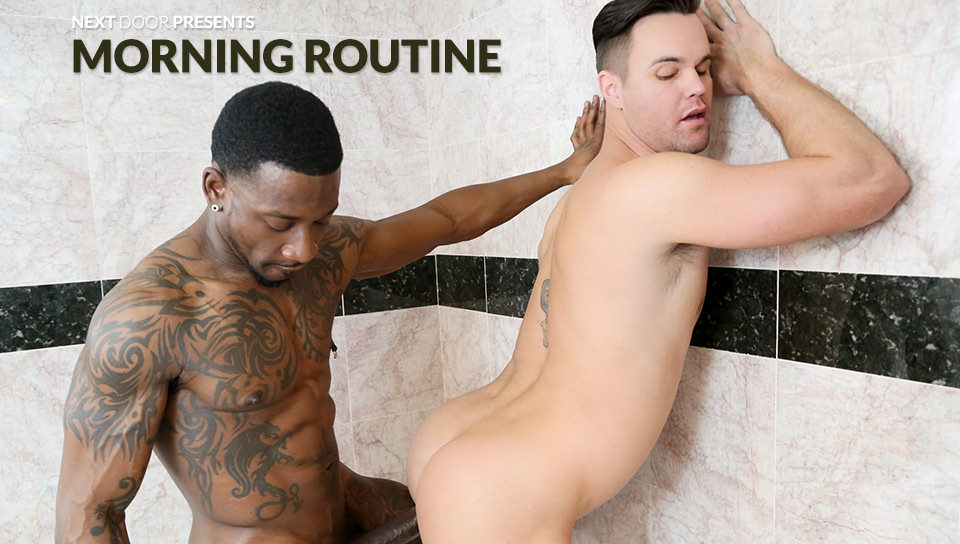 As far as Rio B is concerned, the day doesn't truly begin until he's had himself a nice morning romp. Luckily, boyfriend Beau Reed is always down for some morning activity, so as Rio soaks himself in the tub, and Beau lathers up for his shave, Rio decides to have a little fun, pulling Beau's towel off and exposing his bubble butt.
Rio gives it a smack and Beau knows what's up, bending over to give Rio a better view. Beau turns around and sucks Rio's big cock until it's nice and hard, as Rio eyes Beau's sweet ass. Plunging his cock deep inside, he pounds Beau against the vanity as Beau takes every inch.
Beau mounts Rio and bounces on his meat stick until he's nice and loosened up, and the Rio flips him onto his back and fucks the cum out of him, before pulling out and dousing Beau with his morning load.
Rio may be a little late for work, but nothing cums between him and his morning routine…Join them!
Falcon Studios gay porn scenes of Beau Reed
After a long day, JJ Knight and Brent Corrigan collapse into bed. Brent excitedly tells JJ about how he caught Alex and Dustin fucking on the job, and the sexy story inspires them into a nighttime quickie. The next morning, Beau Reed arrives to finish some work as JJ is still wrapped in a towel, finishing shaving.
Beau nervously asks if he should come back later, but JJ assures him it's no problem. Stepping into the shower, JJ rinses off the shaving cream and shows off his massive boner to Beau, whose eyes widen with surprise and lust. Stripping off his clothes, Beau walks over and kisses JJ, then eagerly opens his mouth wide to swallow JJ's anaconda cock.
Thick spit drips from Beau's mouth as he works hard to deepthroat JJ's massive meat. Bending over, Beau spreads his ass wide inviting JJ to give him a deep rim job. Using his finger, JJ works his spit down inside Beau's tight, pink hole.
Lubing up his cock, JJ slides himself inside Beau doggy style. Flipping over and putting his legs in the air, Beau jerks his cock while JJ fucks him deep and hard. With JJ still inside him, Beau explodes with a massive load that splatters across his smooth torso.
JJ pulls out and strokes out a thick, enormous load that coats Beau's cock with cum…Join them!
Missionary Boys gay porn scenes of Beau Reed
President Beau Reed has been speaking to some of the other trainee priests and they report that young Elder Jake Hill has been experimenting with drugs to help him experience new things.
President Reed says "How about I show you some of those new things?" as he presses the young dude Elder Hill's mouth towards his big erect dick.
Elder Hill sucks down hard on his thick erection getting his cock deep in his throat as President Reed forces his dick further till the young stud can swallow no more of it.
Pushing Elder Hill onto his back with his legs in the air, President Reed licks his smooth asshole rimming his hot hole getting him all lubed up ready for his cock.
Then holding his legs aloft, President Reed bareback fucks the young mischievous priest making him cry out with pleasure as he pummels his raw ass.
As he presses his thick cock in and then out of Elder Hill's super tight hole President Reed gets close to orgasm.
Just seconds before he sprays cum everywhere the younger priest cums blowing a huge volley of jizz all over his smooth body.
He's quickly followed by President Reed who's load covers his ass then fucks the cum back inside his freshly fucked asshole.
Super cute young Elder Jake Hill has excelled during his time at church and he's the talk of the flock.
Today he is called into President Beau Reed's office for something of a reward for all his holy endeavors.
As President Reed touches the young boy's bare leg he tells him that he's going to get a special kind of massage with blessed anointing oils.
As Elder Hill lies prostrate on the massage table President Reed pulls down his white underwear to expose his slightly hairy ass before pouring the warmed oils across his back and down along his peachy ass crack.
He massages the boy's smooth body and works his fingers down to his butt parting his ass cheeks and fingering his tight virgin boy hole.
Then, President Reed, undoes his pants and flops out his thick erect cock and with a firm hand on Elder Hill's head guides his dick into the young priest's mouth, until his balls are on his lips.
Elder Hill proves to a proficient first-time cock sucker and he blows the President's erection hard and deep.
President Reed then jerks Elder Hill's small oily dick with his hand and sucks it before mounting the table and forcing his dick into the boy's tight hole, making him moan with pleasure.
Elder Reed takes the raw ass pummelling with good grace and wants more, President Reed changes positions getting his cock in deeper and harder with the boy's legs in the air.
The greedy young priest wants more and pushes his ass onto the President's cock harder until he can take it no more and first Elder Hill shoots his load spraying his creamy cum all over his stomach before the older President orgasms shooting jizz all over the youth's ass.
President Reed then fucks his cum back inside the young missionary's freshly fucked boy hole.
Dirty Missionary President Beau Reed has heard good things about young Elder Edward Terrant
from members of the congregation.
In order to test the young boy's trust in him, President Reed asks Elder Terrant to place his hands behind his back whilst he ties them with a rope.
President Reed then asks him if he is interested in the holistic religious experience of sex.
Unsure how to answers Elder Terrant says, "Yes, I think so."
This gives President Reed the opportunity to test the young priest further by placing his hand inside his pants and feeling his soft cock and balls.
Elder Terrant says "That feels good."
So President Reed bends down and sucks down hard on Elder Terrant's small young dick which is now fully erect.
Elder Terrant then kneels before President Reed and wraps his lips around his throbbing hardon, sucking it back till it hits the back of his throat, choking him at first.
With his big erect cock now lubed President Reed turns Elder Terrant around and exposes his bare asshole, pushing his huge mushroom cockhead into his hot hole.
They switch positions with Elder Terrant on top in reverse cowboy style forcing his tight virgin asshole down onto the President's huge dick in strong deep rhythmic strokes.
His tight asshole quickly brings President Reed to orgasm and he fires a multitude of jizz shots into the young priest's bare hole with cum dripping down from his ass.
President Reed has not had enough and he fucks the cum back inside Elder Terrant's asshole until the younger dude cums shooting his load all over himself.
Noir Male gay porn scenes of Beau Reed
Having your best friends by your side is always a plus when getting married.
Jack (Beau Reed), Andrew (Trent King), and Derrek (Aaron Reese) have been best friends all their lives, so Jack couldn't choose between them to be the best man at his wedding so he picked both.
After a couple of drinks and some dirty conversation about the bachelor party, the horny best friends decide to take their friendship to a deeper level with hands, mouths, and hard cocks.
If you can't trust your best buddy to take care of your asshole, who can you trust.
Str8 Chaser Reality Dudes gay porn scenes of Beau Reed
I won the lottery, but my buddy Beau Reed wasn't happy for me, because he was too broke to buy his girlfriend anything for her birthday.
I had cash, and I was horny… seems like we can help each other.
For a hundred bucks, Trent King agreed to touch my cock, and for two hundred more he put my dick in his mouth.
I wanted it all, and so did he, so we went into the bedroom where he got naked to earn the full six hundred.
I played with his hole, and he took my dick like a champ as I fucked him doggy style.
He bounced on my cock as he rode me, and Beau must have enjoyed it because he came as I fucked him nice and deep in missionary.