All gay porn pics and gay porn videos of Rego Bello.
Hair Color: Brown
Sign: Unknown
Eye Color: Brown
Dick Size: 8 inch dick
Height: 5'9″
Cut / Uncut: Cut / Circumcised
Weight: 165lbs
Sexual Positions: Versatile
Rego Bello gay porn scenes at Extra Big Dicks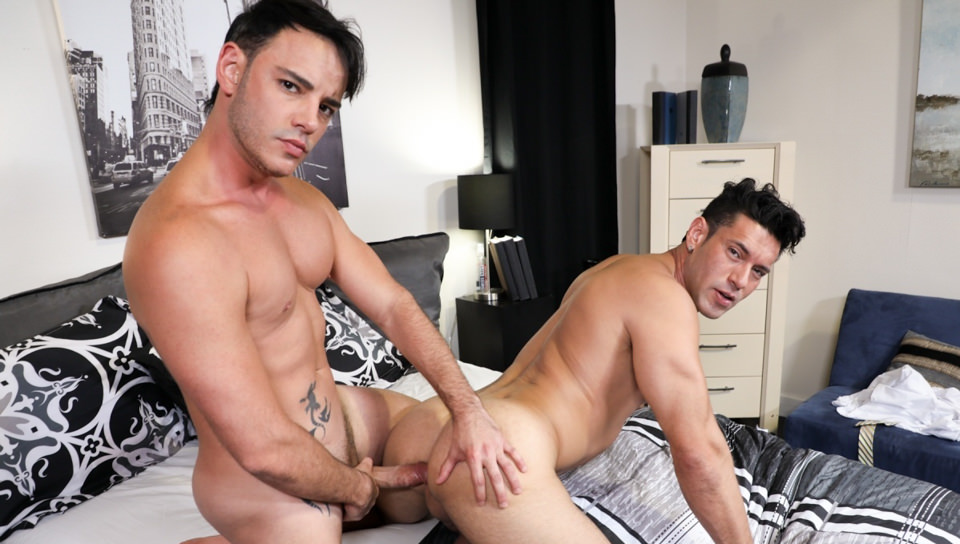 Alexander Garrett and Rego Bello have just returned from getting their STD Test Results and are both super excited because after many years together, they are going to make love bareback.
They agree that as lovers they will only go raw with each other and when playing with others they will use condoms.
Soon they are naked and Rego is sucking on Alexander's big uncut cock. They then move to the bed where they continue sucking each other's big cocks in a 69. Rego then moves to Alexander's ass and starts rimming him.
He then starts out fucking him raw doggy style at first. He then flips him over and continues to fuck him until neither can hold back their excitement and both shoot big loads of cum…Join them!
Rego Bello gay porn scenes at Men Over 30
Alexander Garrett and Rego Bello have been a couple for a while and they have decided to take their relationship to another level by bringing in a 3rd. Rego shows Alexander a couple photos of Tommy Regan who's just moved in living on the first floor of the apartments.
Rego informs Alexander that Tommy will be arriving shortly. Tommy shows up to the room and they all share some awkward small talk before engaging in a sexy 3-way kiss. They soon have Tommy's clothes off and they begin to explore his body as they exchange blow jobs with each other.
The intensity increases as each one takes turns sucking and kissing each other. Tommy gets bent over the bed as Rego rims his ass while Tommy continues to suck Alexander thick veiny dick. Alexander says he wants to see Rego fuck Tommy, but Tommy wants to watch Rego fuck Alexander first.
Rego begins to fuck Alexander showing Tommy just how great his cock will feel deep in his smooth ass. While the fucking continues their hands roam and the ones not fucking are either sucking or getting blown. Alexander then fucks Tommy long and deep as he moans in delight with every thrust.
Tommy is so turned on by Alexander's huge cock in his ass that he shoots his own load all over himself and Rego and Alexander add their own loads to his creamy chest…Join them!
Alexander Garrett and Rego Bello are husbands and they are getting ready for bed when Rego asks Alexander if he paid an important bill. Alexander tells him he did not do it and Rego starts to get upset with him. After some back and forth, Alexander admits that he is joking with Rego and he paid all the bills. The two then begin kissing passionately as their clothes start coming off. Alexander starts by sucking Rego's hard cock and then Rego does the same. Rego rolls Alexander up and rims his ass while going back and forth on his cock. He then fucks Alexander in several positions on the bed until both shoot their nice creamy loads…Join them!