Every gay porn video and gay porn image gallery of Xavi Garcia.
Hair Color: Brown
Sign: Unknown
Eye Color: Brown
Dick Size: 7.5 inch dick (19.05 cms)
Height: 5'10"
Cut / Uncut: Uncut / Uncircumcised
Weight: 175lbs
Sexual Positions: Versatile
Sexual Orientation: Gay
Nationality: Spanish
Xavi Garcia scenes at Kristen Bjorn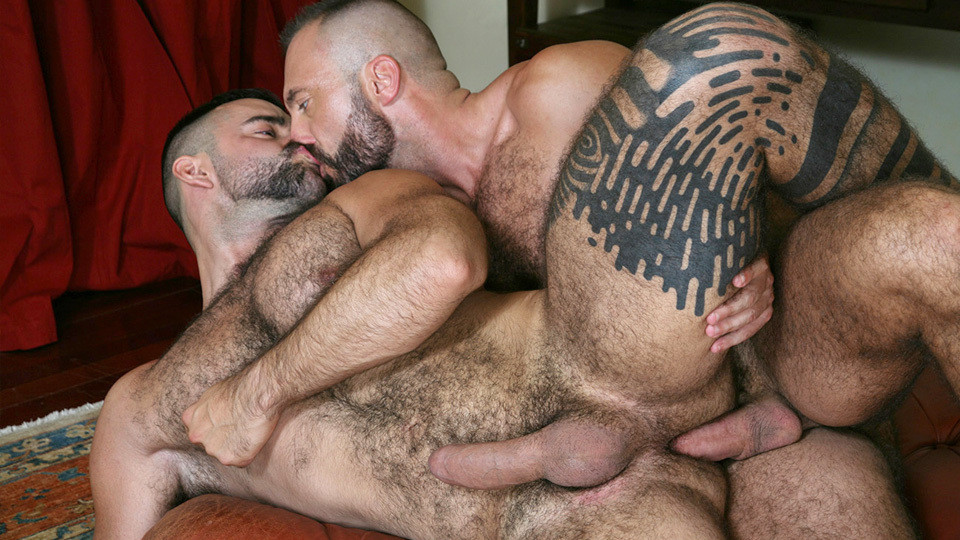 Xavi Garcia is looking for someone a bit more like himself and turns to the Burly Bear app and finds Teddy Torres. Teddy heads over and finds that Xavi is so much more than his pics on the app.
The two muscular grizzlies are immediately attracted to one another and begin to expose their furry, muscular bodies. Both men unleash their meaty, uncut cocks and the attraction continues to build.
Xavi drops to his knees and immediately devours Teddy's fat cock all the way to his hairy base. As Xavi expertly works his way up and down that hot shaft of Teddy's cock, Teddy's head roles from side to side in utter delight as his eyes roll back in absolute pleasure.
Teddy finds himself so turned on that he has to get a taste of Xavi's sexy cock. He drops down and pierces his mouth and throat with Xavi's straining cock. Teddy uses his mouth as a fuck machine and goes wild sucking and bringing ultimate pleasure to Xavi's cock.
After flipping back and forth with the intense cock sucking and nipple pleasure Teddy spreads Xavi's furry ass open and delves deep into the abyss of fur and begins fucking Xavi with his wet tongue. Teddy works his hot tongue from the scorching pink hole, along the furry ass crack down to Xavi's smooth balls and succulent cock.
Xavi's ass is hot, dripping with saliva and primed for action as Teddy stands up and rams his raw cock to its fullest extent deep inside of Xavi. Teddy loves the sensation of both men's fur merging together as the fucking intensifies.
Xavi knows that he has to get in on all of this hot action before he gets too close to cuming. Teddy is flipped on his side and Xavi comes in from behind and pumps Teddy's ass full of raw cock. Xavi gets flipped onto his back and Teddy rides him to the edge and beyond.
Xavi looks up and admires the man that is so strong, powerful, tender and like himself a sex beast. With all that admiration for Teddy, Xavi blows his load of cum as Teddy continues to pummel his ass hard. Just as Xavi's ass muscles start to loosen their grip Teddy whips out his cock and covers Xavi's furry ass with his thick load of cum.
Teddy slides his cock back inside of Xavi and the circle of pleasure is complete…Join them!
Xavi Garcia and Andy Star are having a relaxing Sunday afternoon at home when their desires for sex overcome them. Devouring Andy's hot cock, Xavi loves the sensation of Andy's smooth cock gliding across his wet tongue and deep into his throat.
Xavi works Andy into a frenzy of lust as his cock drips with spit and Xavi is drenched in his own sweat from all his voracious cock sucking. Andy then moves in and shows Xavi that he too is an expert cock sucker and is eager to get face fucked by this hairy, muscle beast.
After fucking Xavi's face with his cock, Andy sits down on Xavi's probing tongue as it darts in and out of Andy's smooth, pink hole. Andy flips Xavi and from behind rams his hard, raw cock deep into Xavi's sexy, furry ass. Andy wears Xavi out with his relentless ass fucking, now Xavi turns the attention to Andy's beautiful, smooth ass.
As Andy squats down onto Xavi's meaty cock he can feel his ass being forced open to accommodate the hot, hairy man's cock. As Andy sits down hard on Xavi's swelling cock he feels his own body being overtaken by pleasure.
Andy lets go and allows all of the sexual energy to consume him, which forces his tight balls to shoot his hot load up his long cock shaft and fly free from his throbbing head. As his thick load oozes forth, Andy grinds his ass deeper and harder onto Xavi's fat cock.
Xavi quickly picks up the pace of his fucking as Andy's cock is still dripping cum. Xavi slams Andy's ass hard before his cock explodes with a heavy load of creamy cum.
Andy allows his first explosion to fly, but the rest belongs inside of Andy's ass as he lowers his hungry ass back onto Xavi's cum drenched cock…Join them!
As Xavi Garcia saunters down the street his confident swag catches the attention of Ivan Gregory. Ivan rises to meet Xavi and the two men immediately have an electrical kiss that thunders through both of their bodies, so much so that Ivan is already sporting a massive erection.
Xavi invites Ivan over and as they are stripped of their clothing we see that Ivan has taken the lead of Greek Olympians and sculpted his body to muscular perfection. His smooth muscular body is a complimentary contrast to Xavi's hairy, muscular bear physique.
Xavi releases his beast and Ivan begins feasting on his meaty cock. Taking full advantage of Ivan's talents, Xavi takes Ivan's head in his hands and begins force fucking his hungry mouth. Ivan unleashes his monster cock and Xavi shows Ivan that he too has deep throating skills that only forces Ivan's cock to engorge that much more.
Ivan flips over and Xavi dips his tongue into that hot, smooth, pink hole. Xavi ramps it up and begins to fuck his ass with his powerful tongue. Xavi stands up and rams his meaty, muscle cock deep inside of Ivan's bare ass. Ivan pushes his ass back against the muscle bears cock and the deep, hard ass pounding takes flight.
Hungry for more, Xavi lays on his back, spreads his legs open as Ivan plunges his fat cock deep inside of that hot, hairy, raw hole. Ivan and Xavi begin a game of flip fuck that would satisfy the most discerning top and the most demanding bottom.
Xavi feels the pleasure ripple throughout his entire body as he thrusts his ass up and down the fat shaft until he sprays a huge load of cum all over Ivan's ripped abs. The sensation of Xavi's ass muscles choking his cock only increases his rapid fire fucking until he explodes a huge load of cum.
A macho man comes in many forms, this is just a sample of what happens when contrasting macho men come together…Join them!
After looking at hot naked men all day at the beach, Xavi Garcia and Sergio Moreno return home horny and ready to fuck. Sergio and Xavi enjoy the slow ritual dance of stripping away their clothes and unveiling their rock hard cocks.
Sergi wraps his full, succulent lips around Xavi's straining cock and swallows him whole. Sergio then instructs Xavi to swallow his cock slowly as he guides his mouth onto his thick, uncut cock. Xavi turns and Sergio spreads his hairy ass cheeks open to expose his hot, pink hole.
Sergio's ravenous tongue dives in and heightens both men's levels of pleasure. Xavi begs Sergio to fuck his raw ass so Sergio teases his wet ass before plunging his rigid cock deep within his bare ass. Squatting down on Sergio's steel rod, Xavi lowers his ass onto Sergio's cock and fills his canal and entire body full of ecstasy.
Sergio fucks Xavi until he fucks the cum right out of his throbbing cock. Sergio continues to fuck Xavi as his balls draw up tight and as his cock fills with his load of cum that floods out of his hood like a geyser exploding into the sky.
Xavi lowers his raw ass back onto Sergio's cum drenched cock. Seeing so many hot, naked men at the beach can make us all horny as fuck…Join them!