All gay porn pics and gay porn videos of Salvador Mendoza.
Salvador Mendoza is from the beautiful country of Columbia, is a friendly, kind and very polite man. Salvador confided in me that he is versatile, but when guys see his huge dick they all become bottoms. I told him that his body is very sexy and he said that he prefers a natural workout with running, hiking and swimming.
Hair Color: Black
Sign: Unknown
Eye Color: Brown
Dick Size: 8 inch dick (22.86 cms)
Height: 6'0″
Cut / Uncut: Uncut / Uncircumcised
Weight: 180lbs
Sexual Positions: Versatile
Sexual Orientation: Gay
Nationality: Colombian
Salvador Mendoza gay porn scenes at Kristen Bjorn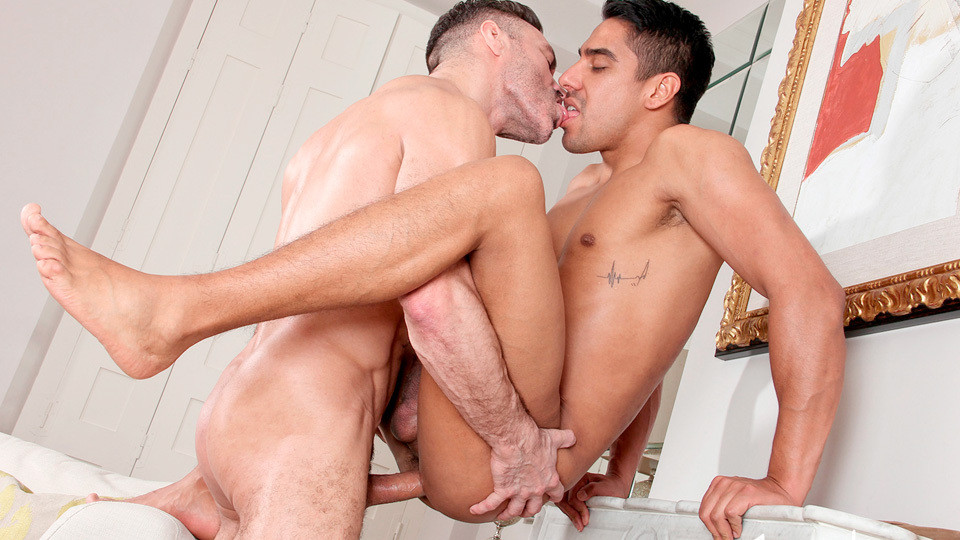 Salvador Mendoza and Manuel Skye have been making plans to hook up, but for some reason it never works out, but today they have made the best possible plan, no plan.
Things work out perfectly as the guys get together and begin to enjoy each other's sculpted, muscular bodies. Salvador drops to his knees and takes Manuel's lengthy cock into his mouth and begins to worship it.
As much as Salvador gags on this massive cock, he never stops his attempts to pleasure Manuel. Flipping Salvador around, Manuel darts his ever-probing tongue in and out of the hot Columbian's furry ass.
Manuel gives Salvador's ass a thorough tongue bath before hoisting him up onto the mantle and ramming his throbbing cock deep inside of his raw, wet ass.
At this angle Manuel is able to go as deep as he wishes and Salvador grins in utter delight as his ass is filled with complete pleasure. Manuel then takes a rather acrobatic approach next as he spreads his legs the full length of the sofa back and consumes Salvador's meaty cock.
With his legs still spread far and wide Manuel lowers himself onto the sofa as Salvador lowers his ass onto his raging hard-on. Salvador grinds his ass down hard and deep on that hot cock and pleasures himself with each thrust.
Flipped again, Salvador in on his back as Manuel drives his cock deeper and harder into his ass. Salvador can withhold no longer and erupts his huge, thick load of cum up into the air.
No sooner has the last drops of cum flown forward from Salvador's cock that Manuel whips out his cock and unleashes a volcanic eruption of creamy cum all over Salvador's smooth thighs.
Sometimes the best possible plans are no plans at all…Join them!
Spring is in the air and Alberto Esposito is hot and horny as he cruises through his mobile when there is a knock on the door and his good friend Salvador Mendoza surprises him with a treat, Logan Moore. Logan is stripped down to his jock strap as he begins to service his new friend's hefty cocks.
Working his mouth up and down on both cock shafts raises everyone's level of desire. Salvador loves being the center of attention, so he positions himself so that Alberto can suck on his throbbing hard cock and Logan fucks his hairy hole with his ravenous tongue.
Alberto gets down on all 4's and Logan gets in the same position over top of him while Salvador comes in from behind and begins to fuck both of those hot, raw asses to his desire. The guys switch up positions as Alberto slicks up his cock with his spit and rams his bare cock into Logan's gluttonous ass and Logan wraps his luscious lips around Salvador's cock.
Keeping things energetic, Salvador takes a seat and Logan squats his ass down onto his straining cock as Alberto feeds Salvador's mouth with his throbbing cock. These guys keep it fresh and equal for all as Salvador lays on the floor and Alberto penetrates his bare ass with his hot cock and Logan hovers his ass above Salvador's probing tongue so he can taste his own cock that was just in that sweet hole.
The culmination of all this hot fucking has brought Alberto to an orgasm that creams Salvador's smooth ass and as Alberto rams his cum drenched cock back into Salvador he blows his huge load that flies over his head and all over his torso.
Logan feeds his creamy load of cum to Salvador, who eats it all up then sucks him dry. This is one hot surprise that we all want knocking at our door…Join them!