All gay porn pics and videos of Leonardo Lucatto.
Hair Color: Brown
Sign: Libra
Eye Color: Brown
Dick Size: 7.5-inch dick / 19.05 cms
Height: 6'0″
Cut / Uncut: Uncut / Uncircumcised
Weight: 180 lbs
Sexual Positions: Versatile
Sexual Orientation: Gay
Nationality: Brazilian
Kristen Bjorn gay porn scenes of Leonardo Lucatto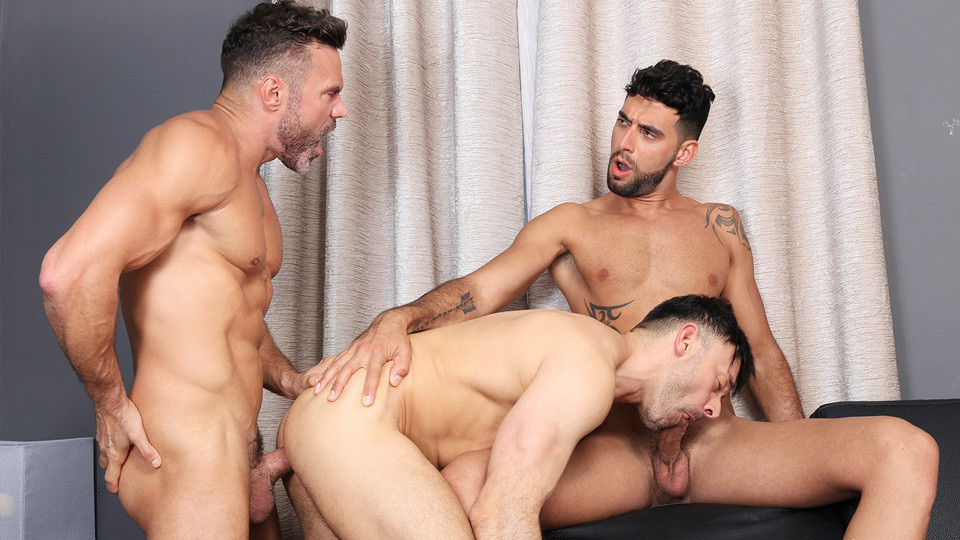 Mick Stallone has told Manuel Skye about this hot new guy that he has been fucking with, Leonardo Lucatto. Manuel invites the guys over to share their new-found friend.
The guys begin disrobing and releasing their huge, meaty, uncut cocks. Each cock offering up its own personality and abundance of pleasure.
Leonardo is the new guy in the group and wants to make a good impression and does so by devouring Manuel's hefty cock all the way to the base and balls, while Mick works over Leonardo's upturned cock.
Manuel moves to the center of attention as Mick licks and tugs on his low hanging balls with his lips and tongue as Leonardo continues sucking his cock with such zeal.
While Manuel and Leonardo move into a hot 69 position, Mick comes in from behind and tongue fucks Leonardo furry ass hole.
With Leonardo maintaining his "all 4's" position Manuel comes in from behind and rams his raw cock deep into his wet ass, while Mick forces Leonardo's hungry mouth down onto his throbbing cock.
The assault on Leonardo's ass and mouth are nothing short of pure pleasure for Leonardo. This 69 position for Leonardo proves to be to his benefit as Mick and Manuel tag team his hot, raw ass.
All the cock swapping has ramped up Leonardo's pleasure level to the ultimate of pleasure as his creamy load of cum begins to spew forward. As his cock flows with cum his ass is still being rammed deep and hard.
Manuel and Leonardo move back into a 69 position, but this time Manuel has his legs spread wide open as Mick plunges his cock deep within his ass.
With Mick's cock fucking his ass and Leonardo's cock in his mouth, Manuel rips off a huge load of cum that coats his sculpted abs.
Leonardo is so turned on by all the hot action and by his new-found fuck buddies that he unloads another load of cum, this time into Manuel's waiting mouth.
Mick can withhold no longer as his hot load of cum erupts from the huge mushroom head of his cock and glosses Manuel's hot ass…Join them!
Macho muscle men Juanjo Rodriguez and Leonardo Lucatto get together for Man on Man, macho y macho, a hot gay porn coupling.
On opposite sides of the bedroom, Juanjo and Leonardo check each other out as they rip off their clothes and leave them in a pile on the floor.
As both sexy men are down to their jock-straps they each reach across and check out their respective big muscle dicks.
Juanjo makes the first move leaning across, getting in close and sucking down hard on Leonardo's erect dick, filling his mouth to bursting point. He deepthroats that monster.
They switch positions so that Leonardo blows Juanjo's 8-inch uncut dick, getting his teeth around his foreskin and tugging it.
Juanjo face-fucks Leonardo his big cock slipping smoothly between his bearded lips and deep down his throat.
Leonardo's tight bubble ass comes into view and Juanjo salivates his cock getting harder as he contemplates fucking him.
Juanjo spins Leonardo around getting his hot butt in position then shoving his raw dick deep between his ass crack. Bare fucking him with his balls slapping against his ass as he pumps harder and longer.
Juanjo the pig comes to the fore as he gets Leonardo on his back with his legs in the air so that he can get his tongue deep, rimming that hot ass.
Juanjo thrusts his cock deep inside of Leonardo, which causes his cock to grow that much stronger.
Making one last position change, Juanjo is now positioned to go as deep as he pleases, and it truly pleases Leonardo.
As Juanjo's cock massages Leonardo's ass perfectly, he is unable to keep his mounting passion from boiling over and Leonardo spews his huge load of cum all over his magnificent furry abs.
Just as Leonardo releases the last of his load, Juanjo pulls out and creams his ass perfectly with his thick, luscious, milky load of cum.
Butch Dixon gay porn scenes of Leonardo Lucatto
Now what exactly would you do if you found Leonardo Lucatto sprawled out, ass in the air, in your bed? Ely Chain is the lucky chap who stumbles in on this delightful sight.
We make the most of Leonardo's considerable charms, as does Ely. He spreads those smooth, firm buns just as Leonardo is opening his eyes and sticks his tongue into that hole and his face as deep between those cheeks as he possibly can, this man is hungry.
Leonardo make his scalding hot debut at Butch Dixon, ripped, rugged, ready and very able. Ely has him on his back, jacking his weighty, meaty dick as he pushes his own throbbing stiff uncut cock into Leonardo's tight hole.
He fucks him face to face just because he wants to look at the stunning man as he fucks him, but then to get even deeper into this hotties juicy ass he flips him over an rides him doggy style, thrusting that hot meat, deep, deep, deep into Leonardos' muscular, rippling sphincter…Join them!
UK Naked Men gay porn scenes of Leonardo Lucatto
There's no better end to a scene than a soggy arsed bottom covered in thick, gooey jazz as his sodden, sloppy fuck hole leaves a dripping wet patch on the sofa. Oscar Wood is our hairy, tattooed, dirty blonde, big-dicked top whilst Leonardo Luccato is our well-endowed, handsome bottom.
These studs are ripped, revved up and ready to go, we just tok off the muzzles and let 'em get to it. Oscar's a well equipped guy, whilst Leonardo is a swarthy, sexy lady with a taste for the blondes, and when they're with Leonardo they really are having more fun.
Leonardo sucks that juicy meat to steaming stiff attention, of course both of our studs are uncut, always an added pleasure to watch those foreskins sliding back and forth behind fingers, tongues and butt holes.
Oscar pushes his study partner's head down and rides his throat before lifting Leonardo's legs up, looking him square in the eye and leveling the bloated cock of his stiff dick at Leonardo's aching, twitching fuck-hole…Join them!