All gay porn pictures and videos of Dallas Steele.
Hair Color: Brown
Sign: Unknown
Eye Color: Brown
Dick Size: 8-inch dick
Height: 6'3″
Cut / Uncut: Cut / Circumcised
Weight: 230lbs
Sexual Positions: Versatile
Men Over 30 gay porn scenes of Dallas Steele
After a hard workout, you'd think Dallas Steele and Rikk York would be ready to hit the showers, but they've one more rep to get in before they call it a day, and luckily, they're here early enough that no one else is around.
Trainer Dallas has been working Rikk hard all morning, but he's really about to give him some deep training now that they're alone in the locker room.
That's music to Rikk's ears. He's been eye-balling Dallas' body since he got here, just waiting for that extra special attention Dallas is known to give his preferred clients.
One thing is for sure, the workout isn't over until both guys get their reps in, so there's plenty of action to see between these two hot bodied men…Join them!
Dallas Steele and Taylor Bishop each only wearing jock straps star in this steamy homemade scene.
Fun Size Boys gay porn scenes of Dallas Steele
Dallas Steele can't get enough of his little friend, Marcus Rivers. The older man can't help but smile at seeing how bold and proud the boyish bottom stands despite his stature.
Marcus is enamored with the muscle giant's physique, impressed by his size and strength.
Taking him out of the tailor's shop, Dallas offers to give Marcus some special training sessions.
Dallas wouldn't change a thing about his little buddy, but he'll do anything if it means getting him alone and seeing him sweat.
Their playful exchanges get more sexual as Marcus sees Dallas' cock growing hard in his tight, red, coach's shorts.
They try their best to focus on exercises, but it's not long before the two want to strip off their clothes and fuck.
Marcus pulls out Dallas' cock, filling his tiny mouth with the big tool, and taking it to the back of his throat, while the muscle daddy stands tall above him.
Dallas moves to have Marcus practice his push ups, cleverly getting on top of him and teasing his hole with his cock.
The horny boy works Dallas' shaft with this tight hole until the big man slides himself fully inside, giving Marcus a good stretch and insisting he keep up his drills.
Marcus lifts himself up and down, working his muscles as his body massages Dallas' cock…Join them!
Mr. Dallas Steele was professional and courteous as always. Eric Charming was beet red the second they shook hands. Eric did as Mr. Steele told him. He stood up, stretched out his arms, stayed straight, all of it.
As he did, he couldn't help but start to get excited whenever Mr. Steele's long arms stretched over and around him. His measuring tape brought his touch all over his body, causing an unintended rise in his loins.
He didn't want to draw attention to it, but when Mr. Steele asked him to take his pants off for the in-seam fitting, it became unavoidable that the older man was going to see the effect the fitting had on him.
Mr. Steele got down on his knees to draw his tape up the leg, grazing along the inside of Eric's thighs before it cupped beneath Eric's balls. Eric let out a delicate breath, in near disbelief that the handsome man had actually touched him on his genitals.
Even on his knees, Mr. Steele still looked massive. His shoulders and chest were so wide and his biceps could barely be contained in his crisp, white shire. Eric realized that his entire width was less than just Mr. Steele's chest.
The more he took it in, the more his cock swelled up in his underwear. And yet, Mr. Steele continued on taking his measurements.
It wasn't until Steele took Eric's hip measurements that he had to contend with Eric's obvious excitement. He playfully mentioned it, saying it might affect his measurements, making Eric's face turn bright red.
His pink skin and freckles disappeared from the rush of embarrassment. But it quickly turned to arousal when Mr. Steele boldly and unexpectedly grabbed his crotch.
Boy For Sale gay porn scenes of Dallas Steele
Most boys are a little unsure and hesitant at first. That's usually part of the thrill… Bringing a boy to climax and seeing him appreciate his place as property.
For Boy River, however, it was clear in his gaze that he wanted to be possessed. This was something he'd thought about for years, possibly his whole life!
Seeing Master Dallas Steele work his nipples into a reddened, swollen state was exciting enough, but the boy's hungry gaze never ceased.
Even as Master Steele's rough hands smacked his firm stomach and teased his loins, Boy River stayed focus on the crowd; never stirring more than to moan, as if saying to us all: "take me."
As Master Legrand Wolf undresses after winning the auction, he hands his clothes to his newly won property; ordering him to fold them neatly and put them away.
His lost expression tells the master that he hadn't even learned how to properly handle a superior's clothing, something that would need to be taught later, but he didn't mind…
He liked the idea of molding him to his needs!
For now, he needed to be bred; fucked and inseminated to satiate his hunger.
Master Legrand had to give him what his heart desired, but he also needed to cement his control over him…Join them!
Icon Male gay porn scenes of Dallas Steele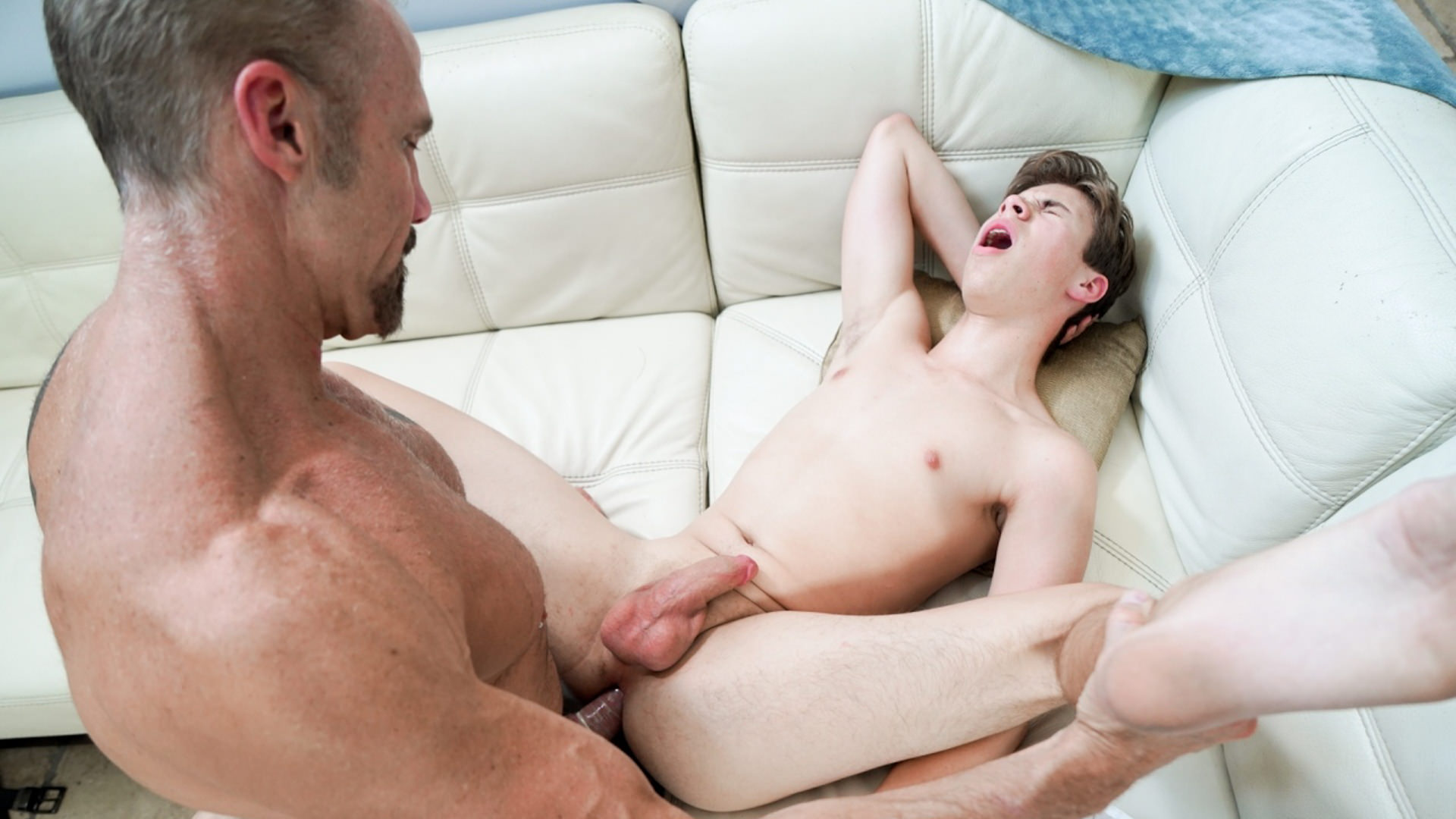 Adam Awbride sits Dallas Steele down and wants to talk to him about something that has been on his mind. He cannot contain himself anymore he wants to fuck him. He won't stop until his hard cock is inside his mouth.
Dallas clearly cannot resist a young stud like Adam…Join them!
Titan Men gay porn scenes of Dallas Steele
After a memorable doomsday bunker encounter, Dallas Steele hitchhikes across the dessert after his Jeep breaks down. He gets picked up by Mitch Vaughn, who watches the stud relieve himself before hopping in.
The driver makes a pit stop to his shop: "You kind of like showing off your equipment, don't you?" The two stare at each other as they stroke their big cocks, then swap sucks as Mitch's extended tongue begs for more.
Dallas eats the smooth jock's hole, then reams his ass ("Oh my God, your cock is so big!") before offering his own hole. Mitch feeds the bottom his own cum, then bursts all over his face as Dallas begs "Shoot that load in my mouth!"…Join them!
A.J. Benson (Jesse Jackman) expresses how good it feels to "be free" with GSPN reporter Jim Weaver (Dallas Steele), who has his own confession.
He's had a crush on the jock ever since they played together 20 years ago. "Wish I'd known," replies the baseball star, who leans in for a kiss.
The two rub the bulges in each other's pants, the reporter's shaft popping out of his underwear and into A.J.'s mouth.
He sniffs the stud's groin, rubbing his shaved head on his cock.
Jim sucks him back, then eats his hole before fucking him ("You are so fucking tight!").
He then bends over ("Right there!" he moans) before they flip fuck again, their dripping bodies soon even wetter.
Adam Ramzi watches Dallas Steele the voyeur's mouth soon working up the bulge in Dallas's leather jockstrap.
Adam opens his mouth wide to take in the alpha male's thick dick ("Fuckin' all the way! Swallow it!").
They kiss briefly and Adam is soon face-fucking Dallas's scruffy face.
Dallas eats Adam's asshole, then grabs hold of his leather harness as he fucks him.
He wraps his arm around the bottom, pulling him back for a kiss before pushing him down again.
Adam sits on the smiling top, the bottom's boner bouncing up and down.
Adam fucks the stud back, feeding Dallas his cock after they shoot.
What's waiting to combust in the California desert?
A drifter on his way to help a friend.
A student, unable to control his urges.
A coach who crosses the line. Feel the heat during a Stopover in Bonds Corner, where legendary director Joe Gage continues his blue-collar chronicle with TitanMen stars David Anthony and Dallas Steele.
Hitchhiker Dallas Steele gets a lift from Mitch Vaughn who wants something in return back at his shop, where they both end up taking a long, hard ride.
Distressed student Luke Adams has ulterior motives for showing up at Max Sargent's house, but the daddy is happy to indulge the bottom and stuff both of his holes.
Coach David Anthony has a parent conference with father Bruce Beckham, whose son is causing trouble.
The father wants and gets a demonstration of his son's bad behavior.
When Luke Adams arrives at David Anthony's house, he finds his coach and Dallas Steele rock hard the two hung studs taking turns stuffing him at both ends.
Hardcore big muscle worship with Dallas Steele and Diesel Washington's big dick anal fuck fest Dallas Steele and Diesel Washington massage each other's bodies while donning motorcycle helmets and neoprene suits, making jokes as the tension increases. Diesel slides his helmet onto Dallas's ass, releases the muscular stud's throbber, and then inhales a whiff of it through his open visor. Dallas is lowered by Diesel, who quickly chokes the victim with his massive dick. Dallas spits on his own cock while sucking, engulfing Diesel's balls as the side of his face is dick-whipped ("Get it wet," groans Diesel as Dallas gasps). Diesel thanks Dallas for the favor by praising its steel rod. Massive strands of spit fall to the ground as Diesel opens wide. Diesel spins his head in circles while attempting to rewrap the spit around Dallas' cock with one strand still clinging to his face. Diesel uses it to pound his face while groaning and sucking his balls hard. Dallas feeds the gasping sucker the spit by fiddling with it. Following a kiss, they devour one another. Diesel holds Dallas against the wall and gives him a hard fuck. Then, with his enormous legs pumping hard, Diesel sits down on the large dick and turns over. Diesel hits the bottom with one of the wads as the two exchange shots. See all Dallas Steele
gay hardcore fuck sessions at Titan Men here.
See all Diesel Washington
gay hardcore fuck sessions at Titan Men here.
Join them!
Disruptive Films gay porn scenes of Dallas Steele
Coach Smith (Dallas Steele) drops by his favorite player Caleb's (Ty Santana) house to present him with an offer letter to play football at his first-choice university.
Coach Smith is nostalgic about coaching Caleb throughout his career and waxes poetic about how far Caleb has come.
The more Coach compliments him and reveals his care toward Caleb, the more Caleb realizes how in love Coach is with him.
Caleb has sex with Coach to keep him as putty in his hands and get what he wants.