Hair Color: Brown
Sign: Unknown
Eye Color: Brown
Dick Size: 7.5 inch dick
Height: 5'11"
Cut / Uncut: Cut / Circumcised
Weight: 165lbs
Sexual Positions: Versatile
Fane Roberts scenes at Hothouse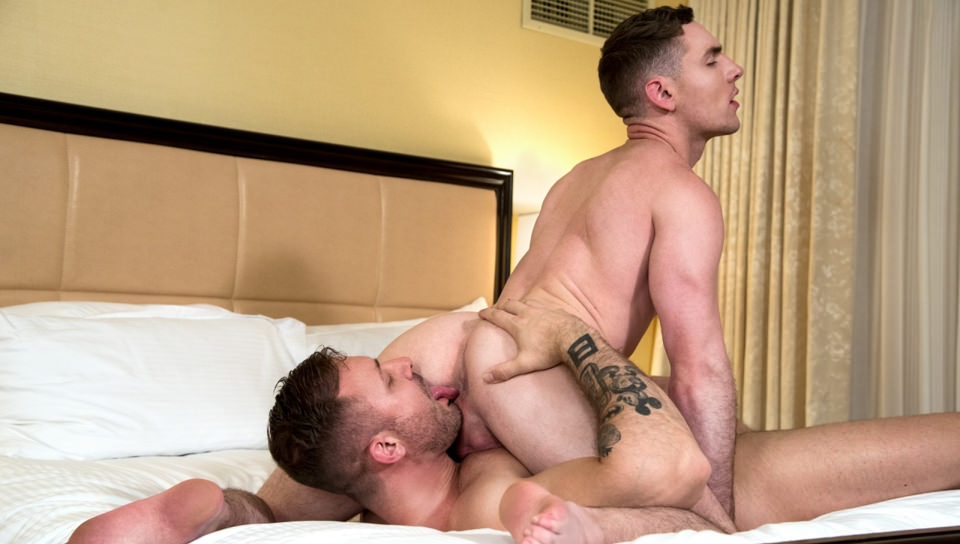 Fane Roberts sets his sights on Austin Wolf at The Ready Bar. He approaches his target without a moment's hesitation and whispers in Austin's ear to meet him in a hotel room. Austin heads upstairs and finds Fane ass up in bed and ready for Austin to have his way.
Fane is ready to get down to business and helps the stud out of his clothes as they make out and rub each other's hard bodies. Austin wants to get the action going and fingers Fane's tight smooth hole before Fane sits on his face.
Fane can feel Austin's big cock straining against the fabric of his pants so he reaches in and pulls it out to take a taste. Fane needs Austin inside him and bends over to offer up his body for Austin to enter. Austin can't wait to get inside and slides his rigid cock deep into the fit jock's asshole.
Once he's inside, he picks up the pace and pounds Fane with a frenzied urgency to get the job done. Fane's hole takes a beating with every thrust from the muscle stud's pelvis. Austin's cock feels so amazing going in and out that it makes Fane want to nut.
Austin will do anything it takes to help Fane along and pulls out to suck his nuts as Fane jacks off and explodes all over his own perfectly fit body. When Austin sees Fane in the throes of pleasure, he needs to get off immediately.
He stands over Fane and jacks his hairy rod until it erupts all over Fane's open mouth and satisfied face. 'Leave the money on the nightstand' and 'It's been a pleasure doing business,' are the last words spoken.
Wait a minute…who's the hustler here?…Join them!
Fane Roberts scenes at Falcon Studios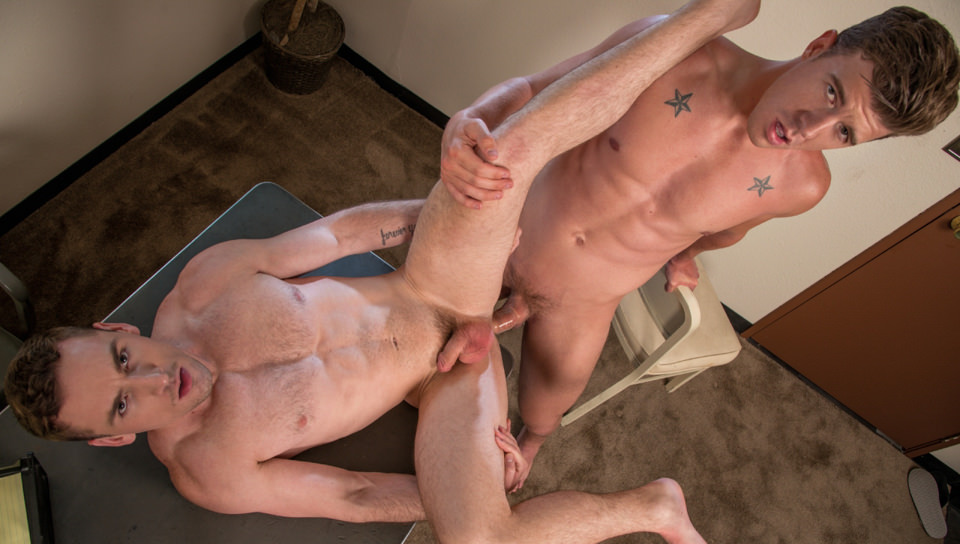 Fane Roberts and Dustin stop for the night at a roadside motel on Route 66. Fane is turned on by his buddy's hot body as Dustin gets out to the shower. And when Dustin talks about the hot gas station scenario, Fane gets totally horned up and makes up an excuse take a breather.
He heads to the front desk to complain that the room doesn't have hot water. The slick and sexy hotel manager, JJ Knight, listens intently while he fucks Fane with his eyes. JJ can see some potential to get some action and slowly approaches Fane as he pours himself a drink and edges closer to the hot hunk.
It's hard to miss the massive bulge in JJ's pants and when he pulls his extra-large member out from hiding, Fane is right there to suck it. JJ's dick is so big and thick that it's hard for Fane to fit the whole thing in his mouth. After getting JJ hard as a rock, Fane knows that the dick will fit much better in his tight ass.
Fane bends over to offer himself up to the hung manager who gets him nice and open and lubed up with plenty of tongue and spitting action. When JJ is convinced that Fane is loose enough to take his massive pole, he stands up and slowly slides it deep inside his new guest.
JJ goes slow and gentle at first and when he notices that Fane is used to the dick inside him, JJ picks up the pace and pumps Fane's ass harder and faster. Fane is ready to get stretched as much as possible and rolls over on his back to take the dick even deeper.
The massive rod going in and out of him makes Fane explode with pleasure as he covers his stomach with sticky fun. JJ sees the mess and soon follows with a load of his own all over Fane's spent balls…Join them!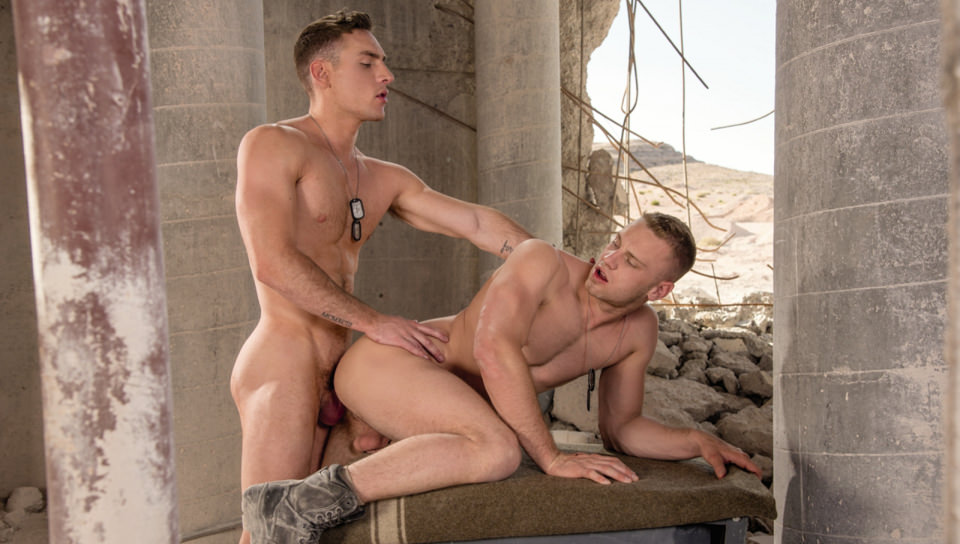 There's a place in the desert where soldiers can go to get away from the everyday stress of military life. It's isolated and free from enemy control and today Brandon Evans and Fane Roberts find themselves alone in their spot together.
Brandon is on his knees servicing Fane's big dick. He gets Fane throbbing hard and unable to think of anything but giving head. Fane wants a taste of his military buddy's big pole and pushes him back against a pillar to get what he wants.
Brandon pulls his pants down around his ankles and peels off his shirt as Fane gets to work getting what he needs. The sensual licking drives Brandon wild and he offers up his hairy little ass and bends over to let Fane rim him. Fane's tongue goes deep as he readies Brandon for what's about to come.
Brandon begs for Fane to fuck him and Fane isn't one to disappoint. He slides his dick inside his buddy's fuzzy little ass and pumps him as Brandon moans and grunts with each thrust. Brandon's dog tags dangle around his neck as he takes it from behind.
Fane wants to get a little deeper inside Brandon and he flips the stud around to get as far in as he possibly can. The deep penetration hits just the right spot and it makes Brandon erupt with an explosion that covers his toned stomach and chest.
Once Fane sees the pleasure he's given to his fellow Marine, he pulls out and makes an even bigger mess all over Brandon's writhing body. His thick semen rolls out of his tip and pools up with Brandon's juicy sweetness as the studs finish up an afternoon job well done…Join them!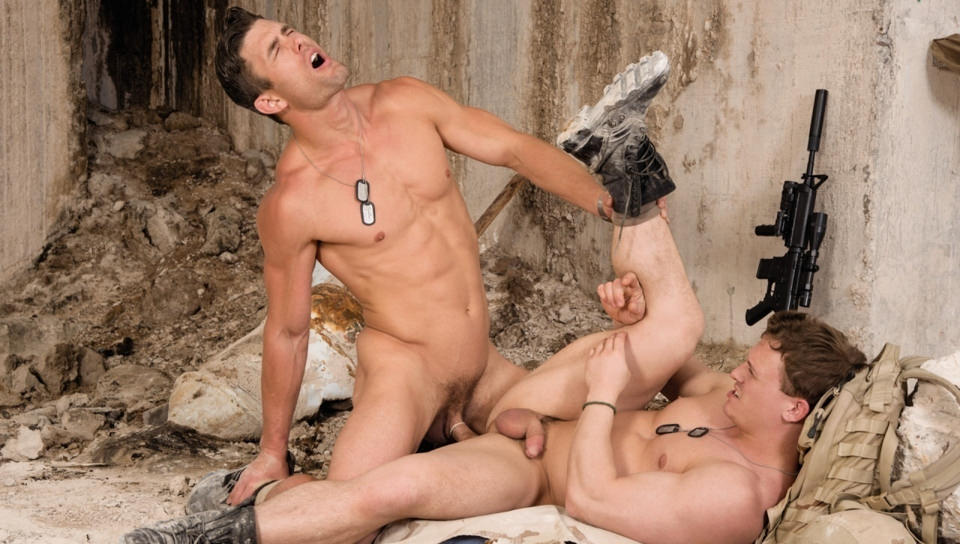 Handsome soldier Fane Roberts is assigned to his new post with fellow stud grunt Brandon Evans. After spending so much intimate time together, their attraction and feelings are undeniable. Unable to resist any longer, they secretly swap head in the barracks.
Fane moans loudly as he shoots a creamy load down Brandon's virgin throat. Sergeant Zevran passes by nearly catching them in the act. Meanwhile, out in the hot desert sun, Ryan Rose and Tommy Regan are on a military patrol.
There's no one around for as far as the eye can see so the Marines take off their protective gear to get more comfortable. Ryan takes it a step further and unbuckles his belt to pull his dick out of his fatigues. Tommy tries to ignore Ryan jacking off behind him and when Ryan asks Tommy to show his ass, Tommy refuses.
Ryan is the commanding officer and orders Tommy to remove his pants. Tommy obeys the order and bends over to let his superior officer rim his cute, fit bubble butt. Tommy admits that the rim job feels good, and as it continues, it gets him in the mood for more action.
Tommy turns around to offer up his growing erection. Ryan can't wait to get Tommy in his mouth and treats his subordinate to a nice long blowjob as he leans against a shelled-out cement wall. All the sucking gets Tommy in the mood to take a taste of Ryan's hard dick.
He services the ripped stud on his knees until Ryan instructs Tommy to turn around. Ryan slips his big stiff rod inside Tommy's tight ass and has his way with him as the muscled up military jock bends over to take it deeper inside his body.
Ryan keeps a steady pace and uses Tommy's perfectly fit form to get himself off. He pulls out and covers the military stud's groin and abs with a river of white and creamy satisfaction…Join them!