Hair Color: Brown
Sign: Unknown
Eye Color: Blue
Dick Size: 8 inch dick
Height: 5'10"
Cut / Uncut: Cut / Circumcised
Weight: 165lbs
Sexual Positions: Versatile
Chris Bines scenes at Hothouse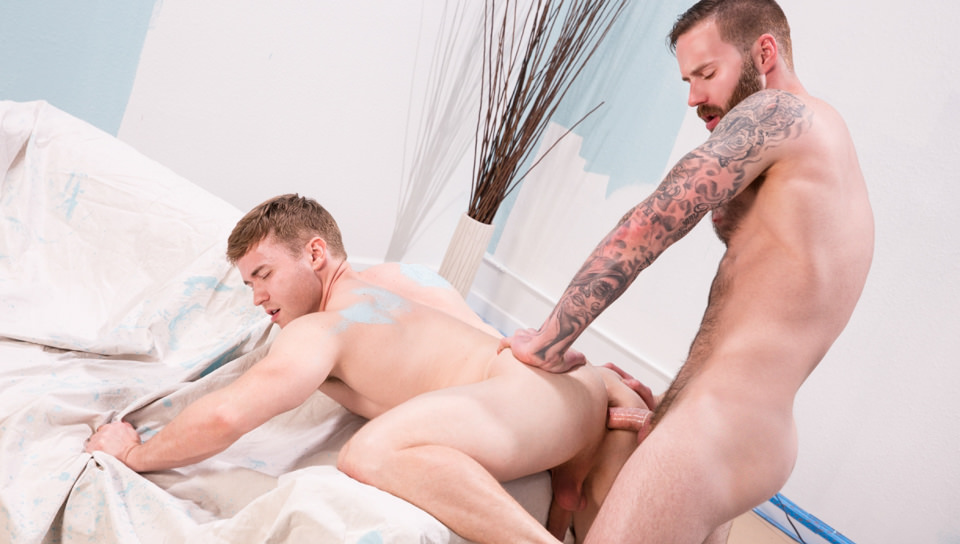 Painting is a boring-as-hell job, so to make things more interesting, Chris Bines tags his boyfriend Gabriel Cross with the roller. Gabriel retaliates, and things escalate quickly.
After a quick tussle, Chris grabs the back of Gabriel's head and gives him a deep kiss. A bulge shows in Gabriel's white shorts, and Chris heads straight for it, shoving Gabriel's cock down his throat.
Gabriel plays with Chris' nipples and rubs his hands through Chris' hairy chest. Leaning against a couch, Chris feeds his cock to Gabriel's thirsty mouth. Gabriel sucks Chris' cock using plenty of spit, and the intense oral pleasure makes Chris shoot a huge load all over Gabriel's face.
But Chris isn't done with Gabriel yet; bending him over the couch, Chris spreads Gabriel's ass and pushes his tongue into the tight pink center. With spit for lube, Chris uses his finger to feel inside Gabriel's sweet hole, and he can't resist putting his dick inside.
With a hot body like Gabriel's in front of him, it's no surprise that Chris is already ready for round two. Gabriel flips over and puts a leg over Chris' shoulder, enjoying the sensation of Chris' big, hard cock pushing deep inside him.
Sitting down on the couch, Chris invites Gabriel to sit on his cock, and Gabriel's uncut meat slices through the air as he rides Chris.
Jerking his cock with Chris still inside him, Gabriel shoots a massive load, then massages Chris' hairy body while he jerks out a second huge cum shot…Join them!
Chris Bines scenes at Falcon Studios
A dip in the pool may be cooling for some, but it lights a fire in the loins of Chris Bines and Scott Riley. They jump out, towel off and get naked in a hurry.
Chris is hungry for the taste of Scott's succulent hole, so he helps himself by kneading Scott's bubble-butt and corkscrewing his tongue into his smooth crack. Scott assists by spreading his legs and his cheeks for Chris' tongue to go deeper.
Scott says thank you with a sopping wet blowjob as Chris tweaks his own nipples. Bracing himself against a pool chair, Scott prepares for a hole-stretching hard fuck.
Spit provides the lube for Chris' cock to slide in deep. Hitting the deck, they continue to fuck, missionary style.
Sunlight reflecting off their sweaty abs highlights every ridge and muscle. After filling Scott's ass with dick, Chris fills his mouth with hot cum.
Scott licks it all up, then shoots his bursting load onto Chris' abs…Join them!