All gay porn pics and gay porn videos of Jeffrey Lloyd.
Hair Color: Brown
Sign: Cancer
Eye Color: Brown
Dick Size: 7.5 inch dick (18.5cms)
Height: 5'11" (181 cms)
Cut / Uncut: Cut / Circumcised
Weight: 165lbs
Sexual Positions: Versatile
Sexual Orientation: Gay
Nationality: Czech
Falcon Studios gay porn scenes of Jeffrey Lloyd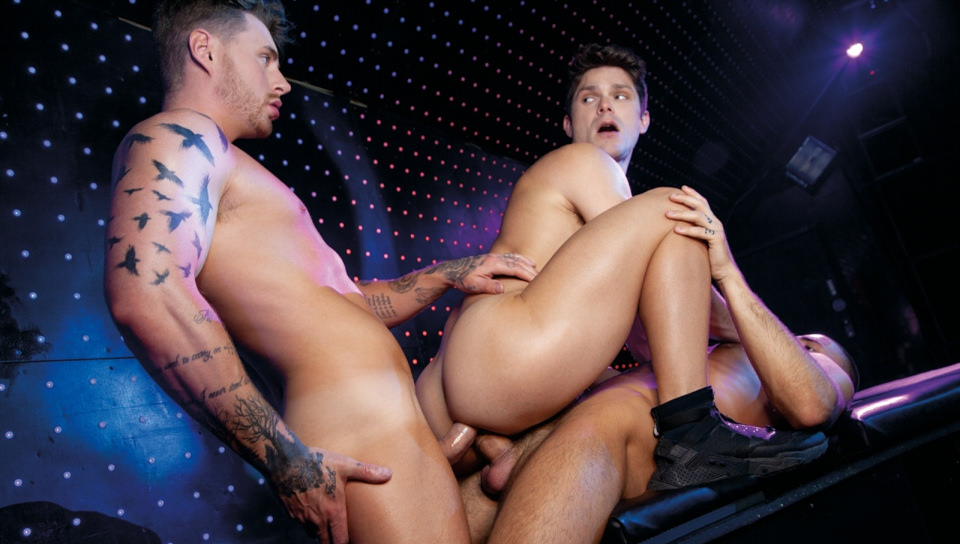 The neon lights are flashing and the music is pumping as Josh Moore and Devin Franco enjoy their last night out in London. Devin walks in, and immediately locks eyes with Josh, their pent-up attraction for each other can no longer be denied.
The sparks fly and they look for a secluded spot to unleash their sexual tension. Josh pushes Devin up against a wall as they make out and get each other boned up. Josh is hard as a rock and wants a mouth around his throbbing dick.
Devin is happy to oblige by getting on his knees and offering up his wet, drooling mouth to be used. While Devin is down on his knees, sexy club-goer Jeffrey Lloyd spots the two and starts rubbing his own cock to the hot and horny scene.
Josh motions for Jeffrey to join in and Devin moves back and forth, servicing both cocks at the same time. Jeffrey needs more than just a mouth and bends Devin over to mount up and fuck his ass as Josh continues pounding Devin's face from the front.
Taking a cock from both ends, Devin knows he's in spit roast heaven as his heartbeat matches the pumping music. As each man thrusts inside him from each end, Devin submits to his body's pleasure and takes everything they have to give.
Josh and Jeffrey continue to fuck Devin with wild abandon, taking turns plugging his face and ass until they both cum all over the horny spent stud, coating his body with sticky, white cum…Join them!
Lucas Entertainment gay porn scenes of Jeffrey Lloyd
Rico Marlon's huge monster dick has fucked many a bare ass and left those guys walking bow-legged for weeks after.
Today Apolo Fire's raw ass is on the rack with both Jeffrey Lloyd and Rico double-dipping fucking his till they all blow their loads.
Apolo Fire is about to face the challenge, as he bends his jock ass over and gets slammed in both ends.
But Apolo gets his raw revenge when he spins Jeffrey around and fucks him up the ass too!
Jackson Radiz is the perfect raw anal slut to lead the first encounter in this new series of gay bareback sex scenes and the upcoming movie, "Raw Anal Sluts" his innocent baby face belies his true nature.
When he's with other hot guys, he strips down and is ready to intense sex. Dylan James and his buddy Jeffrey Lloyd invite Jackson over with the intention of fucking his throat and banging his ass.
Jackson gives it up to both of them, taking both of their raw dicks at the same time. Jeffrey gets so turned on he switches roles with Jackson and rides his cock for a while, too…Join them!
Tomas Brand is the reigning King of All Muscle Daddies, and he is always in high demand to go to bed with younger guys who want to fulfill their stepdad/stepson fantasies with him.
Here, two guys are vying for Tomas' attention, Jeffrey Lloyd and Jesse Santana.
Tomas takes his time tasting the cocks of Jeffrey and Jesse before he fucks Jesse raw in a spit-roast position while Jesse sucks on Jeffrey's monster cock.
Tomas gets so worked up by his young lovers that he wants to feel his own ass get rammed, and he gets his hole pounded by both Jesse and Jeffrey…Join them!
Sean Xavier, Jeffrey Lloyd, and Lucas Leon are all models for high executive fashion, and all three of this beautiful guys are instantly attracted to each other while they're on set.
Lucas and Sean entice Jeffrey to take out his huge and beautiful cock, and that's what turns their fashion shoot into a hardcore gay bareback porn shoot….Join them!
Manuel Skye, an alpha-daddy extraordinaire, shows his boys Sean Xavier and Jeffrey Lloyd what it means to please a man. Sean uses his backside to the fullest in this encounter: Manuel oversees as Jeffrey fucks Sean up the ass. Once Sean is good and opened up, Manuel moves on in and fucks him raw…Join them!
Jeffrey Lloyd is one hell of a good looking guy not to mention his incredibly tight body and huge uncut cock.
Because of all of this and his high sex drive, he's never short on sex partners.
Jeffrey has been feeling the itch to take an even bigger dick up his ass lately, and it is Michael Lucas he's pursuing.
Jeffrey Lloyd takes his time pleasuring Michael Lucas' 10-inch uncut Russian cock with his mouth and ass bareback.
Jeffrey Lloyd and Manuel Reyes are always looking for ways to spice up their relationship.
You see, Manuel has an intense sexual appetite, and Jeffrey Lloyd gets off on seeing him with other men, especially when he's gasping from taking a huge dick straight up his ass with little prep.
Jeffrey is buddies with Viktor Rom, a king among men in the pants and the bedroom, and he invites him over to enjoy Manuel Reyes with him.
Both Jeffrey Lloyd and Viktor Rom are hung with huge, fat uncut hogs, so Manuel Reyes sure has his work cut out for him.
Jeffrey Lloyd and Leo Bacchus's hardcore anal fuck fest.
You might be fooled by your initial impression of Leo Bacchus.
The guy is a butch and muscular gym rat who takes a great deal of pride in working out and shaping his incredible Adonis body.
But when he is in the bedroom with another man, Leo is a submissive bottom and he likes to get his asshole fucked like a pussy ready for breeding.
Jeffrey Lloyd is all for that, but he also wants to experience the muscles of Leo before pounding him out.
So he gives Leo a nice massage, especially his ass cheeks and the tiny little hole between them.
Before long, Leo Bacchus is ready for action, and he takes full control of the huge fat uncut cock between the legs of Jeffrey Lloyd.
Gay orgy Harold Lopez, Kosta Viking, Jeffrey Lloyd, Nico Zetta, Manuel Skye, Derek Kage and Jacob Lord.
Why would the Lucas Men even bother to leave the house when they have eight of the sexiest men in all of gay porn right here in their midst?
One evening, in an effort to lighten the mood and have some fun, they decide to play the game of Spin the Bottle. However, this is not some cheap game that involves kissing.
When the Lucas Men participate in a game such as Spin the Bottle, they turn it up to a level that is significantly higher than a few degrees!
During this iteration, we will determine who will be railed by seven rock-hard cocks that are eager for anal. Because, when it comes down to it, it doesn't really matter who's getting fucked as long as someone is getting it from behind!
Ridick is the one who ends up with the bottle, so he had better get his lips and his behind ready for Harold Lopez, Kosta Viking, Jeffrey Lloyd, Nico Zetta, Manuel Skye, Derek Kage, and Jacob Lord!
Staxus gay porn scenes of Jeffrey Lloyd
Pity the poor folks who had to clean up after Tony Conrad and Jeffrey Lloyd met up for this tremendous piss and spunk fiesta, which begins, innocuously enough, with Conrad jigging his butt for the camera in a deliciously hot pair of cheek-exposing Barcode Berlin shorts.
Not that he's alone in his antics for very long. Soon Lloyd is joining the fray dressed in a butt-clinging wrestling suit; at which point the action turns decidedly hardcore, with both boys taking it in turns to unleash their meaty, uncut swords and in order to engage in a hot, sweaty session of cock-sucking.
That in turn soon results in Lloyd deciding to give his mate's pert little ass-hole a closer inspection; before finally succumbing to the overriding urge to plunge his shaft deep into Conrad's arse.
It's at this point that you'd be totally forgiven for thinking that the rest of the scene was set to be a predictable romp, leading up to a predictable climax; but proceedings are dramatically interrupted by the sudden decision of both guys to engage in an early piss-fest, with Lloyd taking the full brunt of the yellow nectar.
It's a move that certainly seems to add fresh impetus to their animalistic fervour; with the lads flip-flopping positions so that it's now Lloyd's pucker that's the centre of attention.
Needless to say, the ever-horny Conrad shows little if any reserve when it comes to pounding his pal's fuck-slit; and before you know it he's quite literally spurting like a fountain into Lloyd's rump.
Leaving Lloyd himself the opportunity to jerk out his own gooey wad of spunk all over his own furry belly…Join them!
Raw Euro gay porn scenes of Jeffrey Lloyd
It was only a matter of time when the handsome European Jeffrey Lloyd would try to seduce the young treat that is Alex Bonero.
His uncut cock kicked into gear almost immediately as Alex was caressing the jock's body, trying to get him going.
The youngster stuffed his mouth with Jeffrey's cock within minutes and started making his partner feel good.
That led the jock to strip his shirt and show his body off to Alex, who didn't want to disappoint and popped a boner for the jock to chew right away.
The blowjob session came to an end when Jeffrey decided to be the bottom and bent over for Alex's raw cock.
He lunged at the asshole with a true top form and started banging without pause.
Jeffrey couldn't help but moan in pleasure as his partner was building up a load of cum that was soon to erupt all over his ball sack.