Every gay porn video and gay porn image gallery of Brett Dylan.
Hair Color: Brown
Sign: Unknown
Eye Color: Green
Dick Size: 7 inch dick
Height: 5'11"
Cut / Uncut: Cut / Circumcised
Weight: 165lbs
Sexual Positions: Bottom
Brett Dylan gay porn scenes at Falcon Studios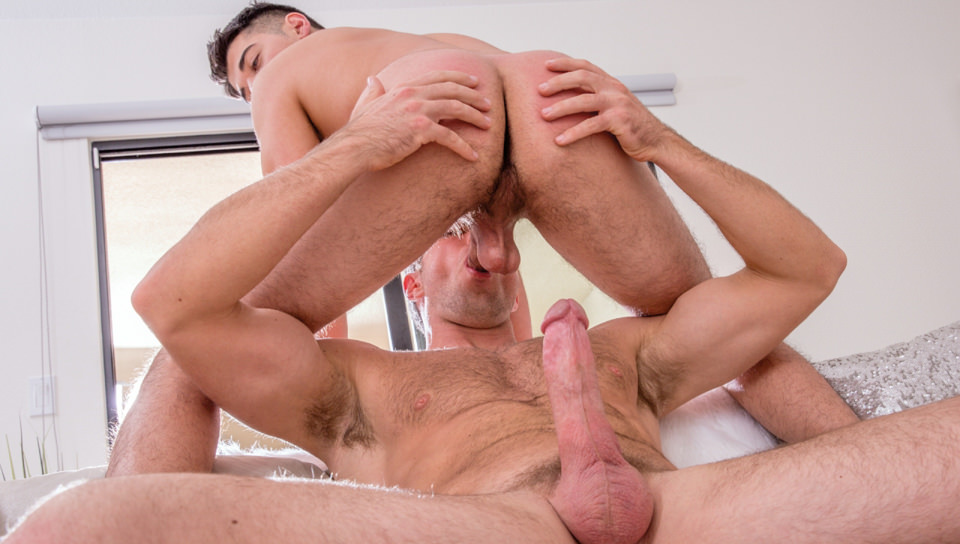 Brett Dylan is frustrated trying to assemble his new furniture so he calls hunky handyman Alex Mecum to come over and help.
Brett is doing his best to help but keeps getting distracted by Alex's stunning looks and impressive assets.
Alex notices the glances and goes for it, locking lips with Brett as they feel each other up.
Brett rips Alex's clothes off and sinks to his knees to service the fat cock in front of him.
Alex feeds the hungry hunk his cock until he decides his own taste of Brett's tight hole.
Licked and lubed from end to end, Brett begs for Alex to stuff him with his thick rod.
Alex gives Brett what he wants and eases his massive dick into Brett's welcoming hole.
Brett takes a hard pounding doggy style before moving to his back to give Alex full access to drilling his prostate.
Alex keeps pumping hard until Brett nuts all over his own abs leaving Alex to blow his load on Brett's chest…Join them!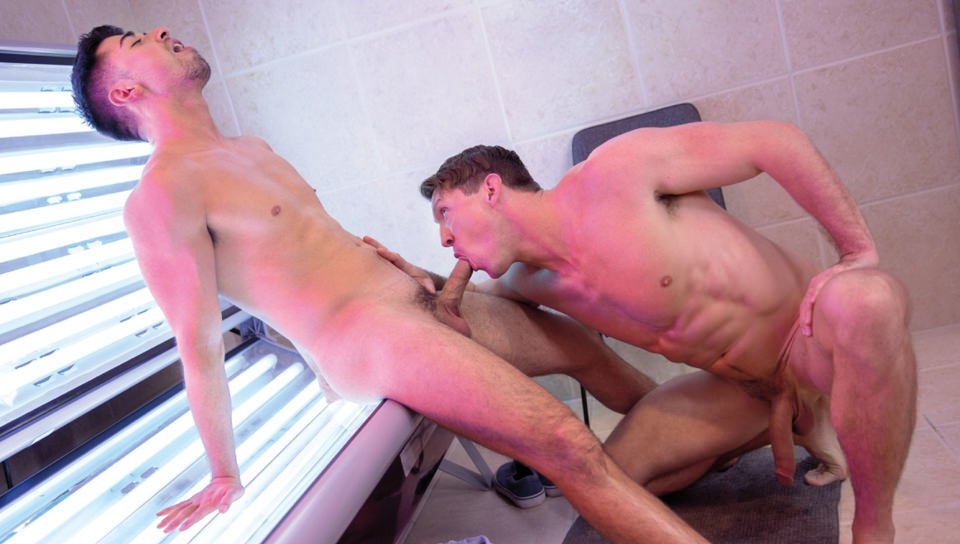 Pierce Paris comes to the tanning salon to get a little darker. Attendant Brett Dylan accidently walks in as Pierce is applying some tanning lotion.
Since he's already there, Pierce asks Brett to get his back with some lotion. Brett's hands wander from Pierce's strong back, across his abs and down to his dick.
Pierce lets the horny stud keep exploring, and soon Brett is on his knees slurping on Pierce's giant cock. Pierce returns the favor and gets Brett out of his uniform to showcase his own cock sucking skills on Brett.
Pierce keeps working his mouth up and down Brett's shaft until Brett unloads thick ropes of cum on Pierce's face.
With Brett's load dripping from his face, Pierce stands up and jerks his cock until he busts in Brett's open mouth…Join them!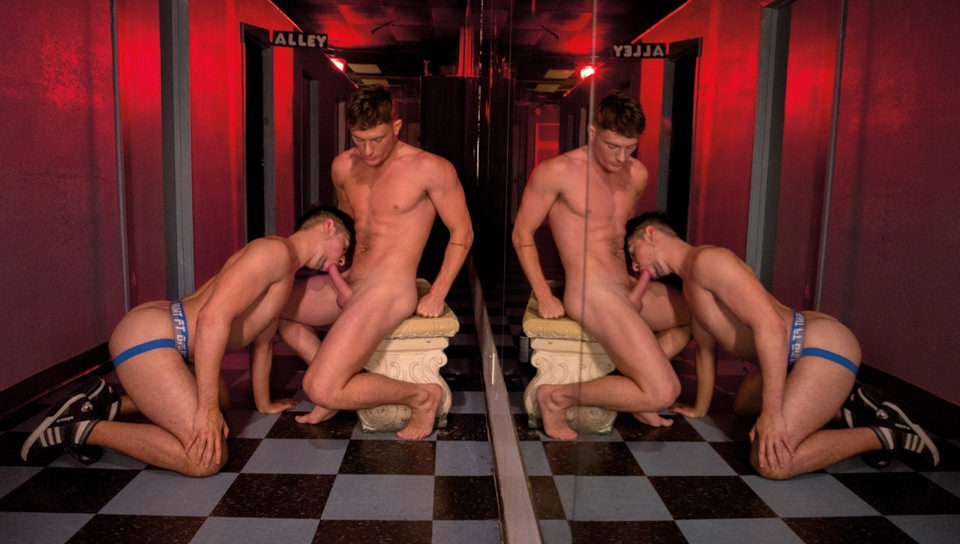 Brett Dylan is cruising the halls of the sex club when he happens to walk by Brent Corrigan. There's no question that Brent is ready for some fun, so Brett drops to his knees to take Brent's hard dick in his mouth.
The dick tastes so good that Brett can hardly control himself as he continues to work the shaft and head up and down. Brett makes sure to give special attention to Brent's balls as well.
Brent is so horny that he needs a taste of Brett's delicious bubble butt. He spreads the cheeks apart to get in deep with his tongue. With each lick, both studs grow hornier and soon, Brent decides to taste what Brett's front side has to offer.
Brent sucks on Brett's throbbing cock, taking it deep as he jacks his own rod. Brett loves the feeling of Brent's lips tightly wrapped around his swollen dick, but he's not going to leave without the one thing he craves most.
Brett gets back down in front of the hung stud to finish what he started. He keeps a bobbing up and down until he gets the cum reward he craves the most in his cock-hungry mouth.
Brent's load on his lips puts Brett over the edge and he polishes the floor with his own thick ropes of cum…Join them!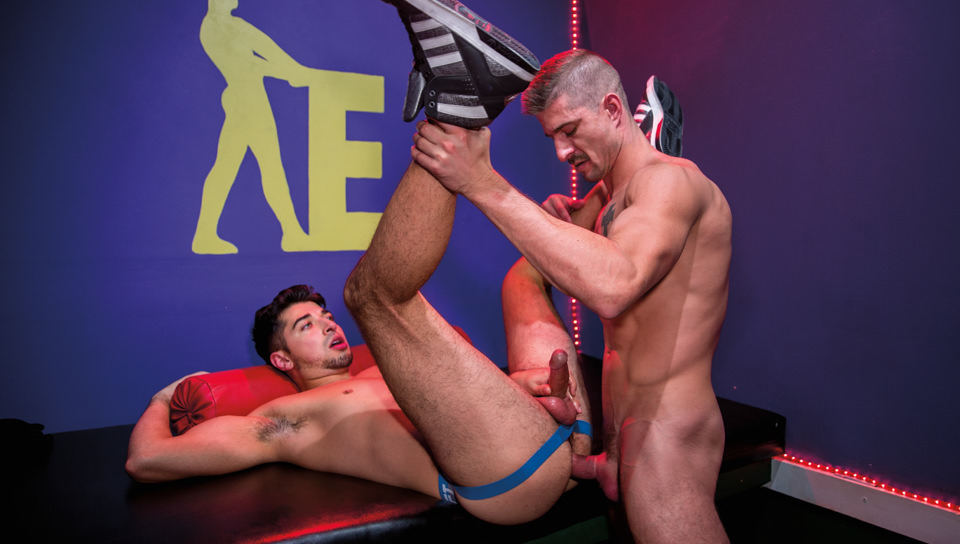 Sean Maygers is horny as hell at the bathhouse cruising guys who check out his bulging biceps as they pass by.
Sean is being picky tonight as he waits for just the right guy to come along.
When Brett Dylan passes him in the hallway, Sean claims his prize and pulls Brett into a private playroom.
Brett celebrates his luck by getting on his knees to service Sean's extra large member.
Brett is hungry for as much dick as he can get and opens up wide to get Sean all the way down his deep throat.
When Sean is as hard as he can possibly be, he bends his new young stud over and eats his irresistible bubble butt to get it nice and loosened up.
Sean can't take the anticipation of getting inside Brett any longer and slides his fully erect cock deep into Brett's eager ass.
The two studs pant and moan as Sean keeps a steady pace giving Brett a hard pounding.
After stretching out Brett's hole, the studs switch up their positions for maximum penetration and end with a grand finale, Brett bent over and Sean fucking him from behind.
Sean drills down onto Brett's g-spot with his throbbing hard-on and fucks the cum right out him.
After giving all he can, Sean pulls out and sprays a massive load all over Brett's hot and spent ass…Join them!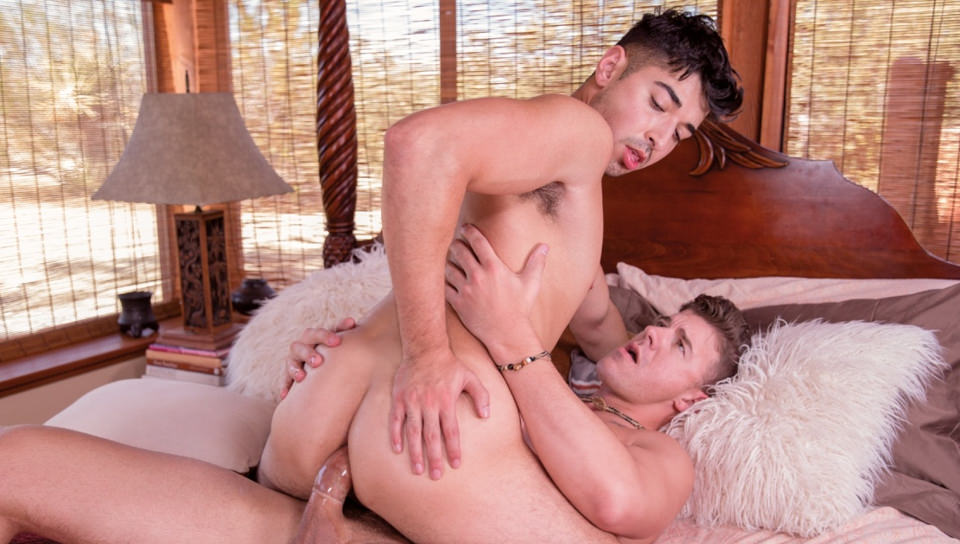 JJ Knight and Brett Dylan are alone in the desert when they take some time to hit the sheets. The ripped jocks kiss and lick each other until their clothes come off and the real fun begins.
Brett can hardly contain the anticipation of seeing JJ's massive dick for the first time as it bounces out of his tight jeans. Brett gets to work servicing JJ, making sure to pay attention to every inch of the hung stud.
Brett gets JJ horned up and ready for his ass while he bends over to 69. JJ loves what he sees when Brett spreads his cheeks and goes deep with his tongue to open Brett up. When both studs are ready to go, Brett hops on top of JJ and takes him deep inside his fuck hole.
Brett rides the smooth monster dick until JJ takes control and bends Brett over for maximum penetration. JJ enters the hunk from behind and pumps deep as Brett moans out in ecstasy.
With JJ still keeping a constant pace behind him, Brett is the first to let go and shoot all over his own body. JJ takes his cue and pulls out to cover Brett's face with cum.
With the taste of JJ in his mouth and the sight of JJ's body shuddering from the intense climax, Brett releases a second load, adding to the mix that covers his satisfied body…Join them!