All gay porn pics and gay porn videos of Jace Chambers.
Hair Color: Brown
Sign: Unknown
Eye Color: Brown
Dick Size: 9 inch dick
Height: 6'1″
Cut / Uncut: Uncut / Uncircumcised
Weight: 165lbs
Sexual Positions: Versatile
Jace Chambers scenes at Extra Big Dicks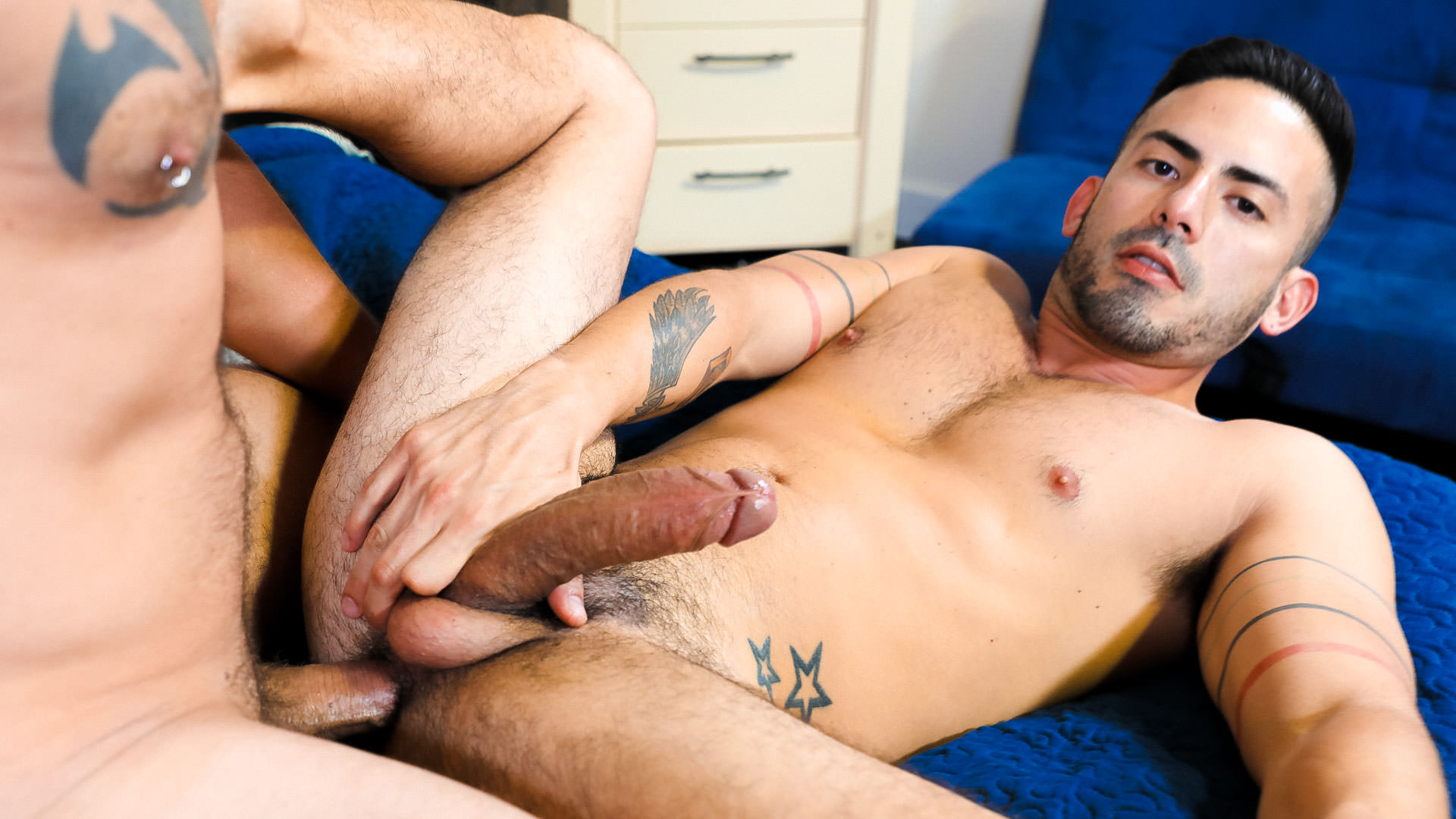 Jace Chambers and Cesar Rossi are in the bedroom discussing sex. Cesar tells Jace that he loves getting fucked by his big dick, but sometimes he wants to also top. Jace loves being a top and tries to convince Cesar to just bottom.
However, Cesar is not having it and says that if he will not be versatile there will not be any sex tonight. With that Jace says he will let Cesar fuck him if he can fuck Cesar first. Cesar agrees and they both start kissing.
Cesar sucks Jace's big cock first and does a nice job deep throating it. Jace then sucks Cesar and they move into a 69. After a while, they both start rimming each other's asses. Jace fucks Cesar first in a couple positions and then Cesar gets his opportunity to fuck Jace.
Jace rides his cock first to get used to it and then lies on his back and lets Cesar fuck the cum out of his big cock. Cesar then shoots all over Jace…Join them!
Jace Chambers and Javier Cruz are sitting in the locker room and Jace is telling him that he is recently single and does not know what he is going to do. Especially with all the Gay Pride festivals and parades happening.
Javier is just staring at Jace's cock which is noticeable in his workout shorts. When Jace notices that Javier is not paying attention to what he is saying, but rather his cock he knows exactly what to do.
He pulls it out and Javier starts sucking him. He then sucks Javier's beautiful uncut cock before rimming his tight ass. He then fucks Javier with his big cock long and deep.
He fucks him first in doggy style and then on his back. Javier then rides his cock until he cannot hold back and shoots a massive load of cum all over Jace.
Jace then shoots his own thick massive load covering Javier's chest with his creamy load…Join them!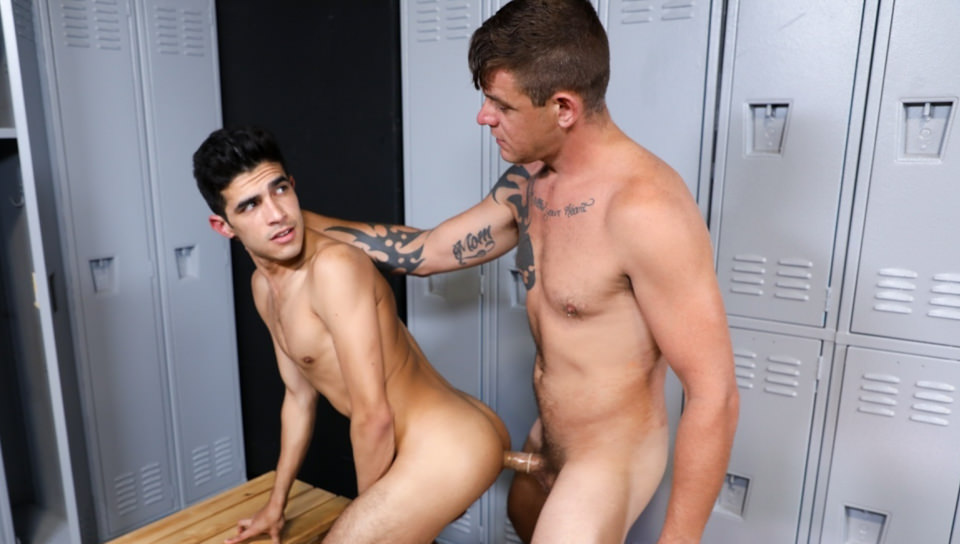 Jace Chambers is showering at the gym and when he finishes he realizes he forgot his towel. He calls out for help and Zane Taylor replies and brings him a towel.
When Zane sees the big cock hanging between Jace's legs, he cannot help but stare. Zane is then on his knees sucking Jace's big cock until it gets fully hard.
They move from the shower to the locker area and Jace sucks Zane's big cock. Jace rims Zane and then fucks him in several positions until both shoot their loads…Join them!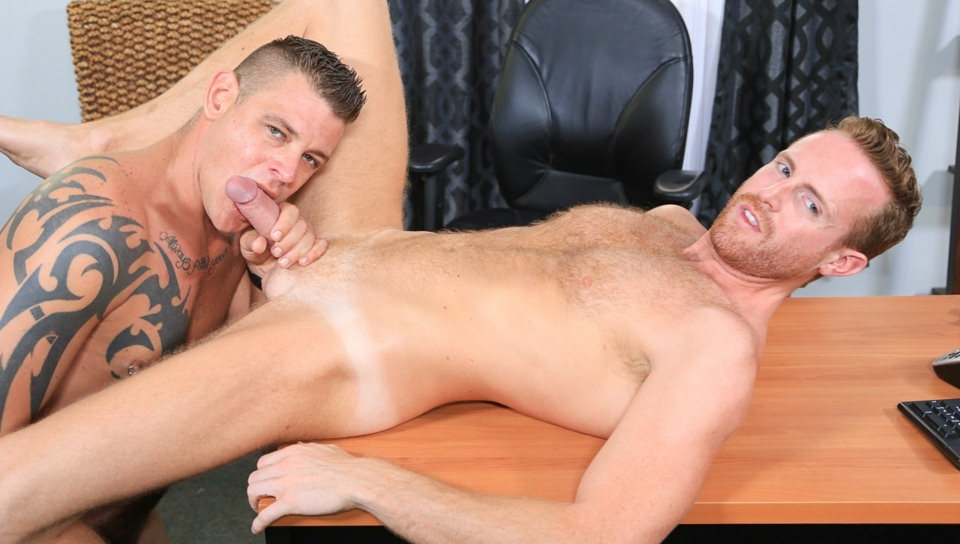 Jace Chambers is in his office and giving Jack Gunther a list of things he needs to do for the day. At first, Jack is writing everything down, but he gets distracted when he notices that Jace has a large bulge in his dress pants.
Jace notices his distraction and decides to take advantage of the situation. He stands, pulls out his cock and Jack is surprised at first when he sees how big it is.
He does his best to take all of it down his throat as Jace starts to face fuck him bringing cock sucking tears to his eyes. After sucking, Jace takes Jacks clothes off and moves to his ass.
Jace rims him deep with his tongue prepping him for his big cock. Jace gives no mercy to Jack as he starts fucking him and drives his cock all the way in. Once Jack is used to it, Jace fucks him harder and deeper to the delight of Jack.
For the final position, Jace clears off his desk and before fucking Jack he sucks his cock. Once he starts fucking him again it does not take long for Jack to shoot all over himself.
Jace pulls out and shoots a massive load of cum all over Jack and he even sprays him in the face…Join them!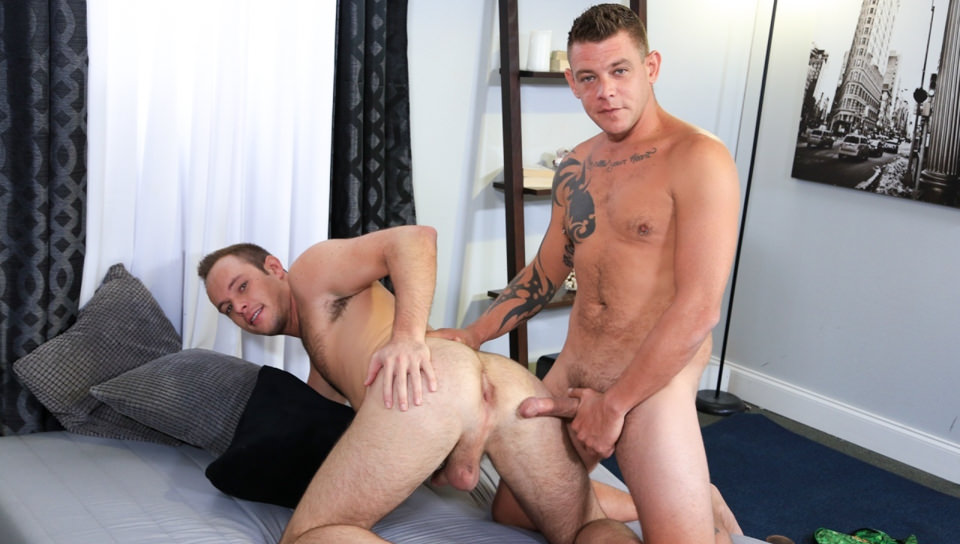 Jace Chambers and Devin Adams are back at his place and discussing what they like sexually when Devin tells Jace he likes big cocks.
Jace tells him he has a huge one and that he likes a nice hairy ass to which Devin tells him he has that. Both start kissing and then the clothes come off.
Devin goes right for Jace's big cock and proves himself a worthy cock sucker. Jace then begins eating Devin's nice hairy ass.
Jace then fucks Devin doggy style for a while before flipping him on his back and sucking his cock. After cock sucking, Jace fucks Devin on his back until Devin shoots his load all over himself and Jace pulls out and shoots his creamy load…Join them!
Jace Chambers and Brendan Patrick have been communicating and it is now The Moment Of Truth. Jace is extremely turned on by Brendan's Irish accent.
Brendan is new to the area and as they finish talking about his past Brendan tells Jace that he desires big cocks and that he can handle a hard fuck, so Jace wastes no time in getting down to business.
Brendan also wastes no time as he deep throats and gags on Jace's massive cock. Jace then rims Brendan's ass before taking his big cock and plowing it deep into his ass. He starts out slow but gets more and more intense as he fucks Brendan deep.
Brendan then rides Jace's cock and you can tell he loves every inch by the fact that his own cock is standing at full mast.
They fuck in a couple more positions until Jace finds a nice pace and fucks the cum out of Brendan and then shoots his own massive load all over Brendan's hairy body…Join them!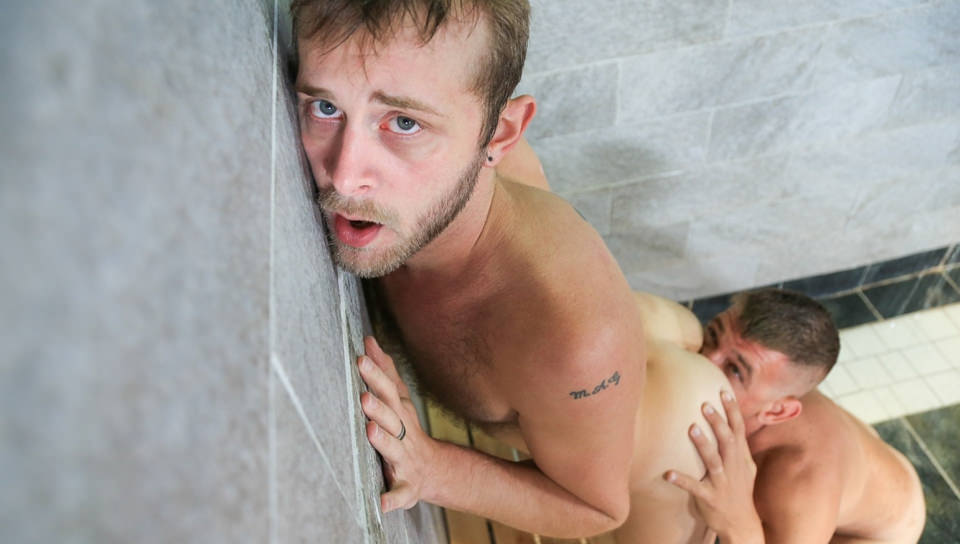 Jace Chambers is taking a shower when Chandler Scott comes in and begins watching him. He joins him in the shower and soon cannot keep his mouth off Jace's big cock. They exchange blowjobs with each other under the running water of the shower and both do a nice job of taking each other's big hard cocks.
Jace then puts Chandler up against the wall and rims his ass. He then slowly puts his big cock deep inside Chandler's eager ass and fucks him standing up against the shower wall. Chandler then rides Jace's hard cock for a while before lying on his back and as Jace fucks him he strokes his cock until Chandler shoots his load.
Jace then pulls out and blasts his load all over Chandler…Join them!
Dominic Pacifico and Jace Chambers are both cleaning up their gym locker room/shower area and having some small talk with each other. Dominic asks Jace to tell him what happened with Bryan and Jace asks if he really wants to know. Dominic wants to know if Bryan was better than he is as a bottom. Jace reassures him that he is the best.
Jace then asks if Sean has a better cock than he does and Dominic assures Jace that his is the best. The two then begin kissing and soon their cocks are out and they are sucking each other. Jace rolls Dominic up on his back and begins rimming his ass deep and hard.
He then fucks Dominic is a few positions proving to each other that they really do have the best sex. At the end they agree as a couple that in the future, rather than hooking up with others alone, they will do it together…Join them!
Jace Chambers and Toby Springs have just finished a pickup game of basketball and are back in the locker room excited about their win. Toby tells Jace that the next time they play, he better wear a jock-strap or some underwear because his cock was bouncing around and very noticeable during the game.
Jace does not care and he begins showing off his huge cock through his shorts by shaking it around for Toby. He then pulls it out and tells Toby to suck it. Toby resists at first, but is soon on his knees doing his best to deep throat it.
After some intense oral, Jace bends Toby over and rims his ass in preparation for a good hard fuck. Jace starts out slowly and as Toby gets used to his big cock, he gets more intense. He fucks Toby in three positions and then he pulls out and shoots a big load all over Toby.
Jace then tells Toby he wants him to feed him his cum and Toby shoots a nice big load into Jace's waiting mouth…Join them!
Jace Chambers scenes at Men Over 30
Jace Chambers and Mike Maverick have just returned to the locker room after their workout. Mike is Jace's trainer and he is complimenting Jace on his hard work. Jace is a little frustrated that he does not have as great a body as he did when he was younger and Mike tells him that with hard work he will get him back into shape in no time.
As Jace admires Mike's amazing body, he asks Mike to show him his abs. He reaches out and touches them and when Mike does not shy away, Jace points out that he also likes how his 'V' shape leads down to his crotch and he begins groping Mike.
Again, Mike does not pull away, so Jace pulls out his cock and starts sucking it. They exchange blow jobs with each other and then Jace bends Mike over and rims his ass. After getting his ass nice and wet, Jace begins to fuck Mike with his huge cock and with each thrust Mike gets used to it and begs for more.
After several positions, Jace is fucking Mike on his back deep and hard while he strokes Mike's hard cock. Mike cannot hold back and he shoots a huge load over his own head. Jace pulls out and shoots all over Mike and then exclaims that if he gets more cardio workouts like this, he will lose his Dad Bod in no time…Join them!