Hair Color: Brown
Sign: Unknown
Eye Color: Brown
Dick Size: 6.5 inch dick
Height: 5'7″
Cut / Uncut: Uncut / Uncircumcised
Weight: 165lbs
Sexual Positions: Bottom
Eli Lewis scenes at Extra Big Dicks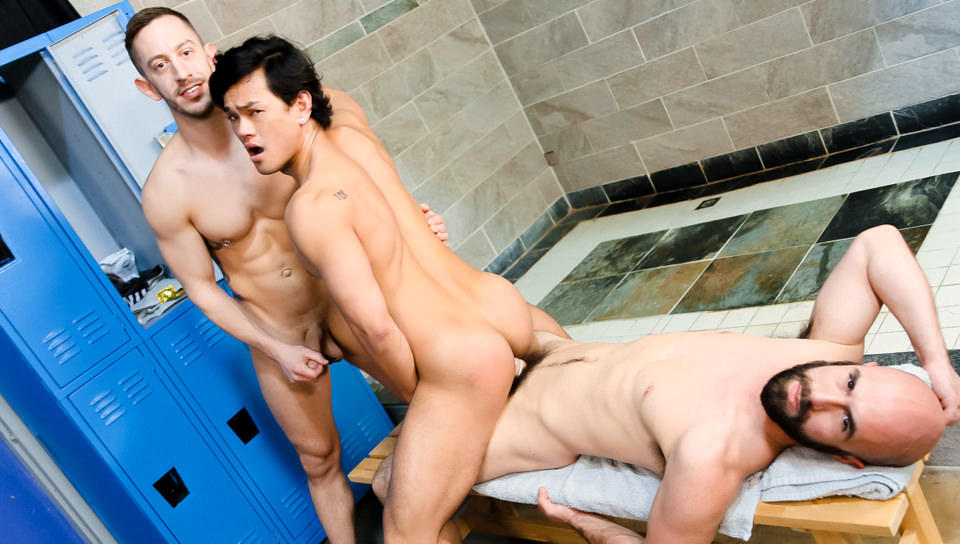 Bryan Cole and Eli Lewis are lovers who are getting ready for their workout at the gym when they see Lex Ryan walk into the locker room. As Lex starts to undress they both stare at him with wide eyes when they see the big cock hanging between his legs.
Lex then heads to the shower as they both continue to ogle him. He knows they are looking and he starts stroking his own cock as they begin to do the same with theirs. Lex invites them over to suck his cock and they both eagerly begin sucking and sharing Lex's big hard cock.
Lex then lies down on the bench as they continue to worship his huge cock. Lex declares he wants to fuck them and Eli starts out by riding Lex's huge cock as Bryan encourages him to go deep. Bryan then lies down on the bench and Lex fucks him while Eli gives him his ass and balls to eat.
Eli also sucks Bryan's cock while he is being fucked. Bryan is so turned on by having Lex's huge cock in his ass that he shoots his load all over his abs. Then it is Eli's turn to get fucked. Bryan holds his legs open as Lex drives his huge cock deep inside and Bryan feeds his cock to Eli at the same time.
Lex then pulls out and shoots his load all over Eli and then Eli jacks his cock and shoots a big load of his own cum. All three then enter the shower to clean up…Join them!
Jay Alexander and Eli Lewis are in Jay's bedroom kissing passionately and rubbing each other all over. It is the moment of truth for Eli tonight and the question is, Can Eli handle Jay's big cock? He is extremely nervous and hesitant about the whole situation.
He has to fit 9 inches of long dick plus girth into his tight little butt. After some reassuring from Jay, Eli agrees for the big step. Eli starts out by sucking Jay's big thick cock gagging and taking every inch down his throat.
Jay flips him over and rims Eli's beautiful round ass tongue fucking Eli until his dick is rock hard. Jay starts out slowly at first as he pushes his thick meat into Eli. He begins to pick up some speed as Eli's tight hole opens up for him.
He fucks Eli doggy style and once he is used to Jay's massive dick he increases the intensity as he fucks him in two more positions on the bed plowing away into Eli's eager tight ass.
With each thrust his cock goes balls deep into Eli's sexy ass until both shoot their creamy thick loads…Join them!
Eli Lewis scenes at Fisting Central
Dom top Brian Bonds releases his sub, Eli Lewis, from his cage for some intense, deep cocksucking. Eli's chest is bound in a red rope harness, which Brian attaches to a suspended ring. Gathering more rope, Brian connects Eli's legs to the ring and suspends him several feet above the ground.
Brian lays on the ground underneath Eli and they 69 each other's cocks. Lowering Eli to the floor, Brian unties the ropes binding Eli's legs knot by knot. He raises the ring, forcing Eli to assume a doggy style position, and probes Eli's asshole with his tongue.
Using an oil can, Brian applies lube and starts to fuck his sub. Eli jerks his cock as Brian thrusts deep inside the sub's tight hole. After having his fill, Brian lowers Eli to the floor once more and stomps Eli's ass with his leather work boots, leaving a red mark on Eli's ass cheeks…Join them!