Hair Color: Brown
Sign: Unknown
Eye Color: Brown
Dick Size: 6.5 inch dick
Height: 5'10"
Cut / Uncut: Uncut / Uncircumcised
Weight: 165lbs
Sexual Positions: Versatile
Cameron Kincade scenes at Extra Big Dicks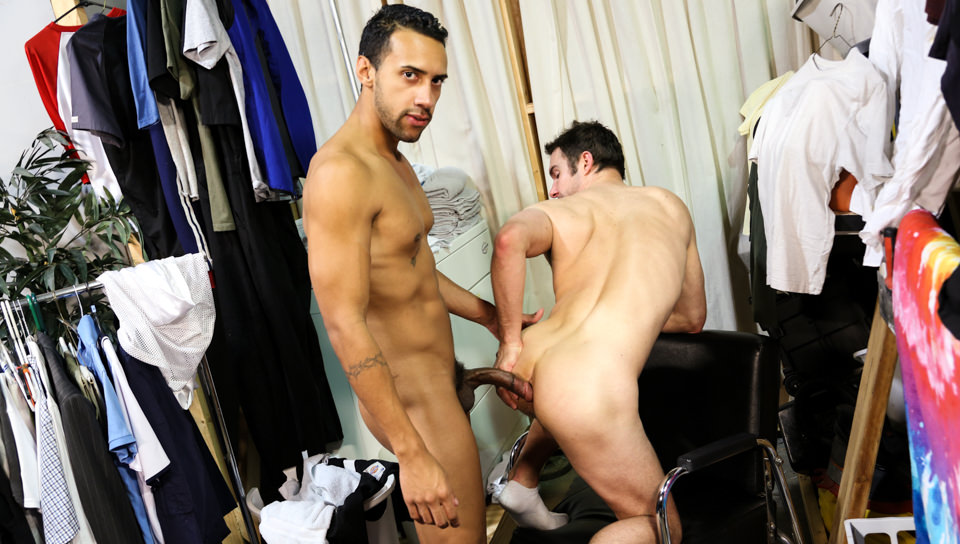 Cameron Kincade is working in the laundry room folding towels when his coworker Jay Alexander, comes walking in soaking wet from the rain. He asks Cameron if he wouldn't mind drying his clothes for him and when he takes them off Cameron is shocked to see the big cock hanging between Jay's legs.
As he stares at it, Jay starts to get excited and soon Cameron is on his knees doing his best to deep throat Jay's entire massive long dick. Jay then turns Cameron around and rims his ass in preparation for his big cock.
Cameron's ass is lubed up with enough spit that he can lower himself down on Jay's big cock and once he is balls deep Jay begins to fuck up into Cameron with ever inch. Cameron moans with intense pleasure as Jay's long shaft continues to penetrate deeper and deeper.
Jay then fucks him on the floor missionary style until Cameron explodes his load all over himself which makes Jay pull out and stroke his nut above Cameron who is eagerly waiting for it below…Join them!
Cameron Kincade scenes at Men Over 30
Cameron Kincade and Chandler Scott have just finished their work out and have come to the locker room to dress down. Both are very sweaty and energized, not to mention horny. Chandler asks Cameron if he thinks he should possibly shave off his body hair and maybe he won't sweat as much.
Cameron says he has never noticed how hairy he was, but that he should keep the hair, it looks sexy on him. He runs his hands through Chandler's hairy chest and asks if he is equally hairy down below. As he explores Chandler's hairy body, both guys are excited and Cameron starts sucking Chandler as his cock begins to grow in his mouth.
Chandler then sucks Cameron and turns him around to rims his ass. Chandler fucks Cameron in all over the locker room and at the end he pounds Cameron hard until he shoots his cum right onto Chandler's furry belly.
Chandler pulls out and shoots a massive sprinkler type load all over Cameron drenching him in cum…Join them!
Saxon West is in the locker room starting to undress as Cameron Kincade walks in. He strikes up a conversation with Cameron and starts asking him what he prefers girls or guys? Cameron tells him that is a personal question, but being intrigued he tells Saxon he is into guys.
Exactly what Saxon was hoping to hear and makes his move on Cameron who does not resist. After making out and groping each other, Cameron drops to his knees and does his best at trying to deep throat Saxon's girthy cock. Saxon then sucks Cameron and then bends him over the trash can and rims his ass.
He fucks Cameron all over the locker room until Cameron cannot hold back and he shoots his load all over himself. Saxon pulls out and shoots a big load that hits Cameron in the face…Join them!