All gay porn pics and gay porn videos of Conner Mason.
Conner Mason in his own words: "I am a kind and caring person. My friendships are very important to me and I like to have fun."
BSB comments: "Conner Mason is a little shy with you at first. He is sweet and charming with a great smile."
Hair Color: Brown
Sign: Unknown
Eye Color: Brown
Dick Size: 6 inch dick / 15 cms
Height: 5'9″ / 175 cms
Cut / Uncut: Cut / Circumcised
Weight: 145lbs
Sexual Positions: Versatile
Conner Mason gay porn scenes at Extra Big Dicks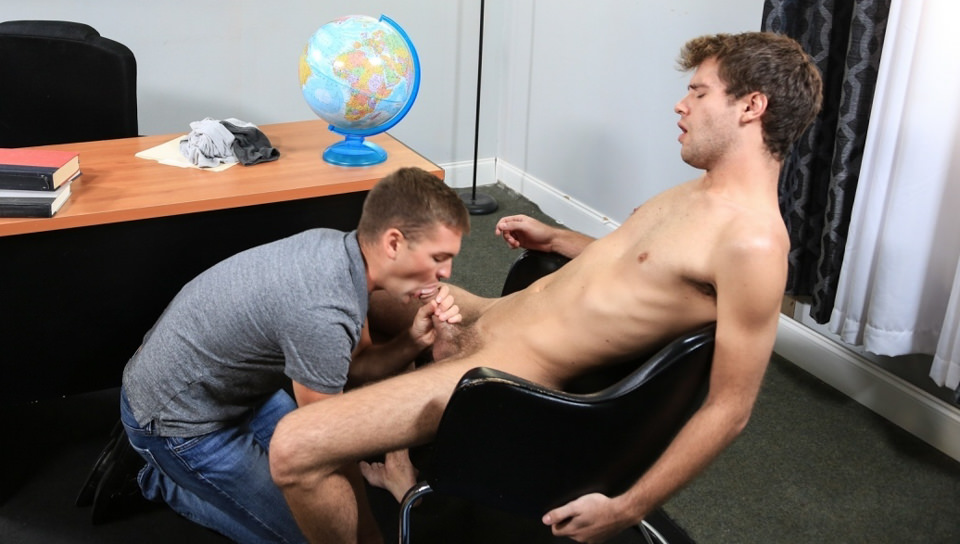 Conner Mason is in his office when his student Maxx Monroe comes in. Conner is concerned because he has noticed that Maxx has been distracted and very fidgety in class as of late.
Specifically, he has noticed that Maxx keeps tugging and playing with his huge cock through his clothes. The entire time Conner is talking to Maxx, he is tugging on his cock.
Conner offers to see if there is a problem and to help Maxx. As soon as Conner sees how big Maxx's cock is, he drops to his knees and starts sucking it.
Maxx then moves to playing with Conner's ass and at his request, he begins fucking his Teacher right on his desk.
Maxx fucks Conner all over the desk leaving it sweaty and messy once they both blow their heavy loads…Join them!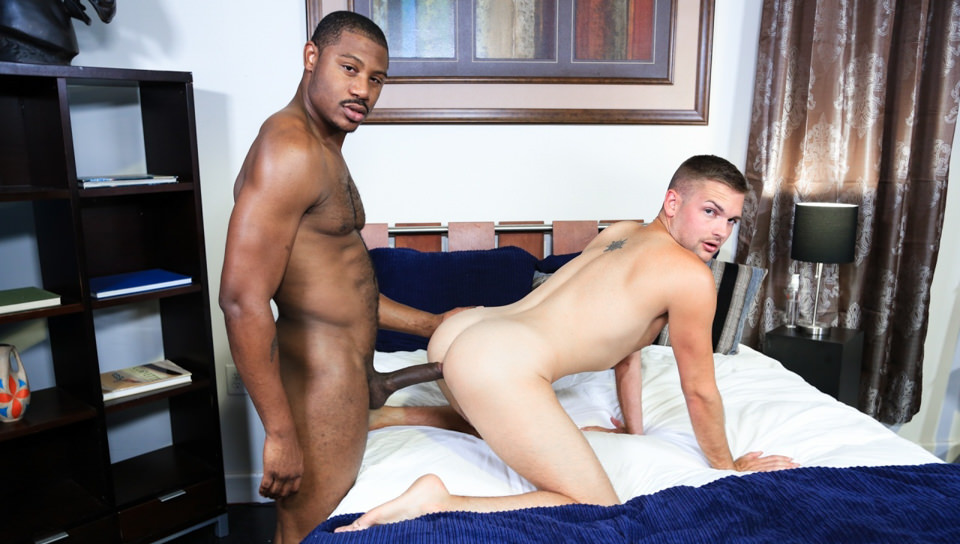 Conner Mason has called Adonis Couverture over to his pad so he can check out his big dick. Conner loves big thick cock and once Adonis pulls his meat out Conner is instantly down on his knees worshipping that big thick uncut cock.
Conner takes every inch deep into his mouth as Adonis face fucks him. They move over to the bed where they fall into a 69 position. Adonis blows Conner's dick while his thick meat is making Conner gag. Adonis pulls Conner up and bends his sweet little ass over revealing his tight pink hole.
Adonis lubes up that pink hole with his tongue as he stats to get it wet for his big uncut cock. Now that Conner's ass is dripping with spit Adonis pushes his fat dick slowly into Conner making him squeal and moan in pleasure.
Once Conner's ass swallows that big dick Adonis begins to fuck hard and deep now that Conner's ass has opened all the way up. Adonis fucks him doggy style making his balls slap before he rolls him over on to his side and fucks him some more.
Conner is ready to pop and Adonis moves him into missionary and fucks the cum right out of him. Adonis pulls his thick meat out and nuts all over Conner's chest…Join them!
Conner Mason gay porn scenes at College Dudes
Pheonix Fellington reaches around Conner Mason to get a feel of that ass as these two studs make out and Conner wrestles Pheonix's huge cock out of his pants, stroking it with his hand and then getting on his knees to take it between his lips.
Conner can't fit much of that thick, long shaft down his throat but he makes up for it by working it with his hand and sucking Pheonix's balls before reclining on the bed and letting Pheonix get a taste of his dick next.
Pheonix hungrily sucks on Conner's cock, working it and then lifting Conner's legs up and spreading that ass so he can bury his face in it, rimming and licking Conner's tight hole and making him moan as he flicks his tongue against that sensitive spot.
When Conner's ass is wet and relaxed, Pheonix pulls him onto his lap and lets him ride his huge prick, but Conner can barely get it all in, his taut hole stretched to the limit as Pheonix impales him on his huge member.
Conner lies on his back next, legs spread as Pheonix fucks him harder, pounding into him with that big cock until he fucks the cum out of Conner and then pulls out and adds his own load to the mess on Conner's belly…Join them!
no images were found
Conner Mason and Mike Lobo are so horny, and as soon as they start making out, their dicks swell in excitement until Conner kisses his way down to Mike's cock and takes it in his mouth.
He sucks that dick, getting a good taste of Mike before lying back on the bed and letting Mike get a mouthful of his sweet cock next.
Mike deep throats that big cock while he plays with himself, making Conner moan with that skilled tongue before Conner decides he wants one more taste of Mike's delectable dick.
Mike face fucks Conner and then bends him over the bed to lick Conner's ass, rimming his tight puckering hole and sliding his finger over it before standing up and slowly pushing his hard prick inside of Conner.
Mike's deep thrusts make Conner's sexy ass bounce as he moans in pleasure, pulling Mike even closer to get that cock balls deep.
Conner turns onto his back and spreads his legs, letting Mike fuck him harder until he pounds the cum out of Conner and then pulls his dick out of Conner's ass and strokes out his own load…Join them!
Zeus Michaels and Conner Mason kiss each other gently, exploring each other's bodies until Conner drops to his knees to get a taste of Zeus's meat, capturing that cock with his lips and sucking it.
Of course Zeus returns the oral, pulling Conner's shaft in and out of his mouth as he makes him harder and then invites Conner to climb on his lap and ride his big dick.
Conner sits on Zeus's prick, taking it all the way up his ass and riding it slowly, getting it deep inside before switching positions and letting Zeus take over.
Conner lies on his back, legs spread and cock in his hand as Zeus enters him again, pushing his hard prick into Conner and fucking him hard while Conner strokes his own member.
The harder Zeus fucks him, the closer Conner gets to shooting his load until Zeus eventually fucks the cum right out of Conner's throbbing cock.
A few more good thrusts and Zeus pulls out of Conner's sore ass and unloads his jizz across Conner's abs, leaning in for one last kiss before they go get cleaned up…Join them!
Conner Mason and Bruno Cox are eager to get hard and once they start making out and grabbing for those dicks, it's not long until these boys go from six to midnight. After kissing and undressing, Conner goes down on Bruno, sucking his sweet cock and making Bruno moan and then switching so that Conner can get some head too.
Bruno licks and sucks on Conner's knob and then turns him around and eats Conner's ass, rimming that tight hole before he stands up and shoves his prick in it. Conner bends over and takes Bruno's fat dick, getting pounded hard as Bruno loves every minute of that tight ass around his cock.
They move it to the bed where Conner lies on his back and spreads his legs, giving Bruno open access to that ass as he pushes his dick inside again and fucks Conner deep. Conner plays with himself while he gets his ass dominated by Bruno, stroking his member until he cums hard across his chest and abs.
Bruno keeps that dick in Conner's ass a little longer until he's ready to bust a nut, pulling out and covering Conner with his jizz as he squeezes out every last drop…Join them!
Chase Klein and Conner Mason run their hands across each others' sexy body as they make out, only taking a break from their kisses to strip down and undress. Chase lies back on the bed and lets Conner give him head, watching him work as he sucks that thick cock and strokes it with his hand, getting Chase good and hard before standing up and letting Chase go down on him.
Chase pulls Conner's sweet cock in and out of wet mouth and then the guys 69, each with a dick down their throat as they make each other horny as fuck. Conner can't wait any longer, he wants Chase's prick in his ass and he climbs on top of Chase, straddles that cock and lowers his ass onto it slowly.
Once he's gotten that dick balls deep, Chase fucks Conner hard and fast, doing him doggy style next as Conner's supple ass bounces with each of Chase's deep thrusts. Conner gets on his back and takes Chase's dick while he plays with himself, jerking his own member until he cums on himself and then lets Chase cum on his face and chest…Join them!
Conner Mason gay porn scenes at Pride Studios
Conner Mason is in the pool working on some workout techniques when Seth Stark comes outside and begins to clean the pool. Seth joins Conner in the pool and they start to kiss. The pool isn't as warm as it should be so they continue the kissing poolside where Conner begins to blow Seth.
Once that water dries off it becomes even more cold so they both go inside and get naked but this time Seth is on his knees sucking on Conner's cock. Seth is hard and ready to fuck Conner's sweet little ass. He has Conner ride his hard dick up and down slowly and passionately as they kiss.
Seth lays Conner on his back to get even deeper in his ass until he fucks the cum right out of him and then Seth pulls his dick out and blasts his warm load all over his chest…Join them!