Meet the handsome new dreamboat at CockyBoys, Levi Karter! He was instantly likeable when we met him in person one of those guys you just want to know more and more about. First off, Levi is from Paraguay but moved to small-town Ohio when he was very young.
He still has a lot of pride for his home country, though, which you can tell by the big tattoo on his back. Levi's known he's wanted to be an adult model for a long time, and started out as a gogo boy shortly after he turned eighteen.
He's also very athletic thanks to working out at the gym all throughout high school he even did some back flips for us when we met him. Sexually, Levi's versatile and had his first boyfriend when he was a freshman in high school. He may be young, but with a good head on his shoulders and lots of experience, we're very excited to see where his career takes him!
More Levi Karter scenes at Cockyboys
Today Levi Karter and Tayte Hanson meet again and come full circle as Levi was Tayte's very first scene partner.
The boys talk about those early times which was an age ago, a full six years ago to be precise. You can watch it here.
They gossip about the fun they had on and off-screen. They've clearly rekindled the chemistry they had originally back then.
When Tayte and Levi begin to kiss, their intense passion ignites with full-on making out and mutual caressing of their hard bodies.
Once Levi sees Tayte's thick cock he descends on it hungrily, only stopped by Tayte who hasn't quite finished making out with him.
But after Tayte strips naked, he lets Levi go all in deep-throating him. Tayte takes pleasure in this as well as verbally commanding Levi to do what he wants and when he wants it.
After playing around with Levi's hot ass, Tayte gets him to recline on his face for some deep ass-rimming.
When he lets Levin sit on his cock, he still maintains control, pumping his cock up into Levi's hole at his own pace, and Tayte's cock keeps plunging in deep after he picks up Levi and fucks him in mid-air.
Tayte's cock never leaves Levi's hole as he sits kneels down and leans Levi back to plow him.
He's a non-stop sex machine as he fucks Levi on his back and drills down deep by pushing his legs back.
Without pause, Tayte sits on Levi's face, sucks him, fucks his hole and his face, and back into the hole before flipping him on all fours.
Ass-teasing leads Tayte to resume his wild fucking of Levi from behind, on top of him, and finally, with Levi's ass raised up high, Tayte cums over the gaping hole and breeds him.
A still-hard Tayte fucks Levi on his back until he shoots all over himself.
As they kiss again, that post-sex euphoria quickly kicks in. Both guys are giddy leading Levi to say happily, "That was exactly what I needed!"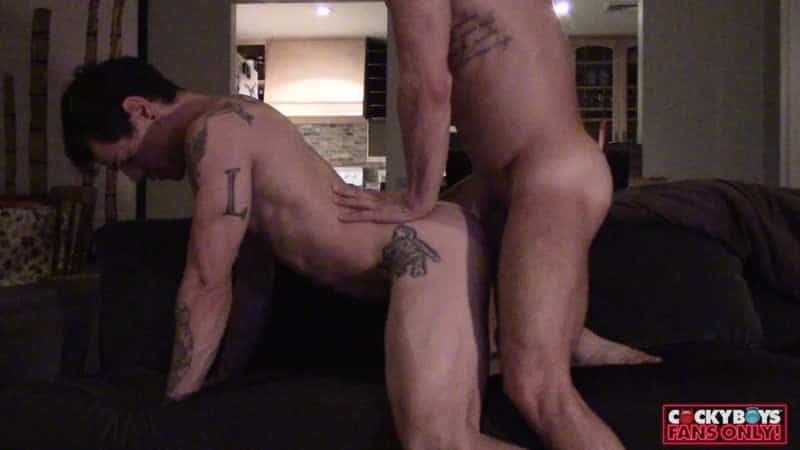 Roman Todd and Levi Karter
Cockyboys says: Levi Karter is back for a new self-filmed, super-intimate CBFO double-feature with two hot co-stars. In part 1 Levi has a steamy, sweaty multi-POV encounter with Roman Todd in his first CockyBoys scene, while in part 2 Levi is reunited with his One Erection co-star Allen King for an audience-pleasing multi-view webcam show.
When we join Roman Todd & Levi Karter they're already in bed and Roman is sucking Levi's cock like a human vacuum. He follows this with deep rimming and tongue action, getting Levi ready for the fucking he's about to get.
As Roman thrusts, the pleasure he sees on Levi's face gets him more excited and passionate. He turns Levi over to play with his hole a little more then unleashes more pounding from behind.
Levi gets Roman even more excited by showing him how it looks from his hand-held camera screen. It's not long after that Roman is ready to pop and as Levi lies back and licks his balls Roman shoots over his face and open mouth.
Seconds later Levi sucks Roman's still hard cock and strokes out a gigantic cum geyser. Think they're satisfied? They're almost giddy in their euphoric afterglow.
Levi Karter and Allen King
Levi Karter and Allen King are as excited as their online audience to get their "show" going. Actually they're more excited as the show goes on. They trade blowjobs with hungry zeal and almost right away Allen just has to fuck Levi.
Fortunately they slow down and Allen alternates fucking with eating Levi's ass. Levi in turn takes his time sucking Allen's juicy uncut cock and rimming his bubble butt.
The guys give their audience a variety show. Levi rides Allen's cock inching him closer to a climax but they go back to sucking and rimming each other's hungry holes.
They bring each other closer when Allen returns to fucking Levi and sucking him right back. BUT, they switch it up once more for a near-perfect showstopper.
Allen squats on his face as Levi rims Allen and they both stroke their cocks and when Levi's tongue makes Allen shoot the domino effect strikes and Levi explodes simultaneously.
Covered in cum Levi proudly shows it off and our two CockyBoys thank each other for job well done…Join them!
Levi Karter has noticed a handsome new stranger in his neighborhood and it seems as though they cross paths at every turn. Waiting at the crosswalk, coffee on the street, lunch in the park; every day is another chance meeting and Levi decides it's time to reach out.
Placing a missed connections ad, he hopes that the handsome stranger will respond. While fantasizing about his missed connection, Levi receives a message from Taylor Reign and he's noticed Levi around the neighborhood as well. Taylor is eager to come over and play so Levi invites him to join in the fun.
Levi sits on the bed, pleasuring himself, when the door opens and Taylor appears in the doorway. He watches Levi stroking his cock before he's invited over to the bed. Levi bends down and takes Taylor's cock in his mouth, sucking him off and making him moan.
Taylor fucks Levi's face and fingers his ass while getting his cock sucked and before long, Taylor is begging Levi to lie back so he can suck him off and eat his hole. Moving to the hall, Levi bends down and tongues Taylor's tight hole, getting him nice and wet so his cock slides in easily.
Leaning against the doorway, Levi fucks Taylor hard and deep from behind until Taylor can no longer stand it. He moves Levi to the bed and invites him to ride his cock. Levi slides his tight hole down onto Taylor's rock hard cock and bounces up and down on his lap until they're both moaning in pleasure.
Taylor begs Levi to fuck him and Levi obliges, turning Taylor over to slide into his tight ass until Taylor is close to blowing his load. He turns Levi over and thrusts into him, causing Levi to cum all over his stomach.
Ready to blow, Taylor pulls out and cums all over Levi's stomach…Join them!
From award-winning director Jake Jaxson comes the second and final installment of THE STILLEST HOUR, a twisted new take on the psychosexual thriller that explores the power of perception and reality.
Norman (Will Wikle) is a highly committed psychotherapist in New York City whose life, whether he knows it or not, has been reduced to a cyclical pattern of idealistic perfection and strict personal routines.
His professionalism and obsessive habits are soon tested when one of his clients, a headstrong and independent artist (Colby Keller) details through series of sexually provocative sessions, a budding relationship with an impressionable millennial (Levi Karter) who appears to be stalking him. When Norman becomes captivated by this power play, the tables are flipped as the boy soon becomes involved in the personal lives of both men.
Presented in two parts, THE STILLEST HOUR's final act finds things becoming more serious and complicated between all of the trio. As they each continue to explore their relationships with one another, power dynamics appear to shift, and perception gives into reality.
What's exciting about this scene is that it virtually edges the viewer to its climax. And boy what a climax. Featuring Will Wilkle in his long awaited porn debut with Colby Keller the passion, the connection and the sheer man-on-man lovemaking is both intense and satisfying. Both of their bodies shine with perfection, and their hands don't stop touching one another, as they're soaked in sweat and devour one another.
Colby's fucking is so intense that it's impossible not to actually feel each of Colby's thrusts as he looses control, taking the uptight therapist to a new level of excitement. And Will makes sure we all know that he is indeed fully committed to the Art of Porn…Join them!
Jake Jaxson's erotic fantasy epic ANSWERED PRAYERS continues with the fifth installment of the series, The Redeemer. Picking up from where the titillating two-part The Lamb left off, The Redeemer is centered around a once-mortal boy experiencing life in between two deaths. We've seen Puck (Levi Karter) before as one of the Sons of Chaos, but now he has been summoned to inherit an ancient legacy he's unprepared to accept.
Puck embarks on a journey of self-discovery, not knowing, and ultimately possibility. Equipped with both independence and responsibility, Puck learns he has been chosen to replace his father Jinks (Jake Bass) as a guardian to the tree of knowledge. All the while the Lamb, having banished Seth and Moloch and killed Jinks, is still more powerful than ever. Puck must find the ability to confront him, but until then, he develops a special bond with Seth. Where Seth failed with the Lamb, Puck succeeds. They explore the bond they share, and discover that redemption can only be achieved through balanced reciprocity, the possibility in the unknown, and love without shared expectations.
Featuring more knockout performances from a continuously growing cast of the hottest CockyBoys, The Redeemer is the second to last chapter in the mind-blowing ANSWERED PRAYERS series.
Two years ago today, CockyBoys released the first part of the erotic thriller The Haunting. Now an entirely new ghost story begins. Newly minted exclusive model Liam Riley has just moved to New York and is set to film his first sex scene with Levi Karter, his best friend, boy crush, and Roommate. But with Jake Jaxson and company away for the weekend, Levi has been tasked to film the scene himself just as he did before with the film Meeting Jasper. Equipped with nothing but their phones, the guys film everything that goes on from their initial meetup to their eventual hookups… but not everything is as it seems.
When Tayte Hanson and Ricky Roman are asked to join (because the boys are afraid to be alone), there's plenty of laughing, flirting, impromptu sex, and… ghost stories. Ricky and Levi recount the story of Ruth, a dead woman they communicated with through a Ouija board who used to live on the property, and suddenly the night takes a creepy turn. Mysterious noises are heard, shadows lurk around corners, and then Levi's dog Bella disappears late in the night.
As the first part of a new four-part series, Meeting Liam takes the "found footage" genre to a new level of fear and flirtation. In their unexpected search for Bella, Levi and Liam encounter a barrage of a ghostly sounds and happings, a party in the basement, a wormhole in the closet, and acorns pitted at them in every direction when they find themselves locked outside with Tayte and Ricky (who are mysteriously naked)! Nothing can prepare Jake Jaxson, in a brief cameo appearance, for what he discovers when he arrives back at the house early the next morning… but luckily he's got the phone footage to explain!
Levi loves threesomes and was really intrigued to meet real life boyfriends, Lukas and Jack. He thinks sex with couples is a lot of fun since there's already a lot of chemistry involved. The guys all describe themselves as sweet and gentle, so it was interesting seeing the energy three versatile men have with each other.
After spending time outdoors and bonding, the trio took their fun indoors to a nice big comfy couch. Levi immediately jumped right in, giving Jack a blowjob that really had him moaning. Lukas enjoyed the show and jumped in to help Levi suck Jack's cock, leading to some hot kissing between Levi and Jack. Next they switched it up with Lukas plowing Jack doggy style while Jack worshiped Levi's cock with his mouth. Jack was truly the middle section of this manwich — he rimmed Levi's ass as Lukas shared one hot kiss with Levi. As the action really took off, Jack started moaning some more. "Oh this is soooo amazing…"
Finally, it was time to switch it up to a big chair where Lukas and Levi took turns fucking Jack harder and harder. This was really becoming the perfect equal-opportunity fuckfest — Lukas cumming on Jack, Jack cumming on his chest, followed a short while later by Levi's load. Yup, everybody went home happy after this threeway!
It was a beautiful summer day here in New York where Conner and Levi were anxious to meet each other and make a few memories. Connor is the type of guy that usually goes for smaller guys so Levi was just perfect for him.
The sun was shining bright on these two as they went canoeing and romancing by the lake. It was only natural that at one point Connor's skimpy shorts came off and Levi embarked upon a journey that would once again re-affirm his status as a power bottom. Connor is gentle at first and makes sure Levi can take it by first eating his ass like it was made out of cotton candy and then slowly warming him up to what was about to happen. Next thing I know, Levi is up in the air, bouncing up and down Connor's massive cock like his life depends on it. Unable to hold it any longer, Levi shoots his load all over his chest which gets Connor even more excited so he starts drilling Levi even harder than before until he shoots his load all over Levi.
It was indeed a beautiful summer day in New York.
Kiss, Hug, Fuck, Love was such a success that since its release most of you have been begging to see more of Justin. There is something about him that just captivates you and you can't take your eyes off him. We thought Levi, who just won the 2014 Grabby's Best Newcomer award (congratulations Levi!), would be the PERFECT choice for Justin.
Little did we know that there were going to be some real sparks between these two! As Justin admits: "I don't normally do this with people but he laid his head on my lap" and the two snuggled up and watched movies all night long. They were so cute together and that made Levi getting completely dominated that much more fun to watch!
Justin and Levi were finally alone in the room and of course there was only one way things could go from that point on. As soon as Justin unbuttons his pants and takes his massive cock out of his underwear Levi is ready to get to work. There are spit and tears covering Justin's cock but Levi is determined to swallow it all the way down (which he does like a total pro) and it's not long before Levi gets bent over the bed and Justin plows him like he owns all of him. A few positions later, Levi is on top of Justin, bouncing up and down, and shooting cum all over Justin's chest. A few seconds later, Justin shoots his load as well. By the time these two are done there isn't a single dry spot on Justin's chest. We're sure that when you're done watching this you are all still going to be begging to see more of these two, but that should help you at least get by until next time.
Welcome to So You Wanna Be a CockyBoy?, a new behind-the-scenes series that attempts to answer how and why everyday people become porn stars at CockyBoys.
In this episode, we meet Tayte Hanson — a New York City personal trainer by day and a go-go dancer by night. A highly sexual guy, Tayte's been approached to do porn before but never thought the time was right… until he met Levi Karter at "Berlin," a weekly CockyBoys party held in midtown Manhattan. Levi became Tayte's "porn mentor" from thereon out, eventually getting him entered into a live modeling contest in which the winner receives an exclusive CockyBoys contract. Pitted against contestants flying in from as far as Las Vegas, Tayte's final test involves getting naked on stage in front of a room packed with people and proving he's got what it takes to be a CockyBoy.
Tayte's always had his eyes on the prize, though — his first ever hardcore scene with Levi. The chemistry between these guys more than transcends the lens of the camera, making the sex between them as real as it gets. For all the advice and coaching Levi offers him, Tayte wants nothing more than to reward Levi with the pounding of his life!
In every boy's life there comes a time when the boy becomes a man. For Levi Karter, that time was when he met Gabriel Clark. Levi's not shy about showing his attraction to Gabriel even though they had just met. When you have two such passionate men as Gabriel and Levi in the same room it's pretty much expected that they're going to just get straight to it. And they do. Gabriel's attention is all on Levi's bubble butt and he could hardly wait to get a taste of it. Levi could only think about one thing – and that was Gabriel fucking the living hell out of him.
So they start making out but that quickly turns into more when both of them get naked. Gabriel's cock and tongue end up deep in Levi's holes and judging by the expressions on Levi's face – he's practically in heaven! After getting fucked in multiple positions, Levi is finally ready to shoot his load. Actually, I take that back. Levi's cock was finally ready to shoot itself. Levi proves once again why he won the prestigious title "Best New Model of the Year" by practically shooting a gallon of cum without even touching his dick. The more cum came out of Levi's cock the harder Gabriel drilled him.
Max Carter and Levi Karter have been flirting with each other for months. Who can blame them — Max's ripped 6 pack and Levi's bubble butt are both to die for! So! I decided to put them in a room together and let the sparks fly.
Max and Levi are both the shy type at first! They both can say so much with just a look. These two need no words to communicate. It was only seconds after they had walked into the room that they were already all over each other, making out and undressing. After a hot, steamy, soapy bath they both relax before the inevitable.
Once Levi's cock got hard, all bets were off! Max sucks Levi in front of the window for anyone to watch which really turns Levi on always the exhibitionist. Then Levi returns the favor but it's obvious that neither one of them could wait any longer. Somebody had to get fucked! In their case – both of them. Max has never fucked anyone this hard and Levi's load is massive – one of his best. This scene speaks for itself. #NoWords!
Solo scenes are always unique because it feels like YOU are the guy's partner. And some alone time goes a long way with Levi Karter, because as we all know, he really opens up when the camera is on him.
Levi had a bunch of toys on his bed, and he had a hard time choosing which one to try out first. He enjoyed explaining how each of them worked, though, and gave each one equal playtime. There was the penis pump, the vibrator, a dildo, and several cock sleeves — one of which Levi said felt like a "hurricane."
As he worked his cock on each toy, Levi revealed some interesting secrets as well — like the one time he was involved in a three-way relationship and how he can cum hands-free when getting fucked in missionary position. A man of many talents, Levi managed to blow a huge load after all the toy teasing. In the end, it was the vibrator that pushed him over the edge!
Duncan Black & Levi Karter first met at a shoot in Atlanta months ago and they haven't been able to stop flirting and sex-texting each other since then. Levi keeps saying that Duncan is "the exception" and Duncan can't stop talking about how cute he thinks Levi is. Together, they just can't keep their hands off each other. I interviewed both of them about what they think of the other one and it just made them that much hornier. So when I gave them the green light they just went at it as if it's what they had been waiting for all their lives.
From the very first kiss I could already tell they had been practicing foreplay with each other for days. It's not long before Duncan is hungrily sucking on Levi's big cock so well that it leaves Levi with no other choice but to return the favor.
After some 69 action it's finally time for Levi to take Duncan's big cock up his ass and judging by the way he does you can tell that it's what he's been really waiting to do all day. Duncan pounds Levi as hard as he can and then lays on the bed so that Levi can ride him like a champ.
Seeing that look of pleasure on Levi's face leaves Duncan wanting to get fucked too and lucky for him Levi just so happens to be an amazingly versatile partner. Levi starts fucking Duncan so hard he literally pumps the cum out of him and then sprays a huge load all over Duncan's abs.
Now this is what sex between two young man should really be like!
After transforming The Banker (played by Ricky Roman), the ever-mysterious entity known as Jinks (Jake Bass) faces an even bigger challenge: his bitter rival and brother Moloch (Max Carter). While Jinks lives and thrives on possibility and hope for mankind, Moloch gorges on the fear of man, growing more powerful in the process. Weary from his task, Jinks asks his three sons, Luck, Puck, and Abel (Levi Karter, Dillon Rossi, and Bravo Delta) to help him in his quest to save another soul from Moloch's powerful grip!
Once again, the inner workings of the human mind is the battlefield for our warring demigods, as we see a brief but powerful interaction between The Healer (Diesel Washington) and an over-zealous manipulative political pundit (Chris Harder). The Pundit is a man who finds no shame in abusing the generosity of his personal masseur and spiritual healer. But something has pushed The Healer past his limits, and we see the inner workings of his mind as he deals with a struggle within himself.
But it's not until Jinks summons his offspring, "The Sons of Chaos", does The Healer, hearing their siren song, begin to take a stand. With Luck, Puck, and Abel now coming together for greater purpose, an extreme power shift occurs and the healer full-on hatefucks The Pundit (literally) into oblivion.
When The Healer finally decides to give The Pundit the fuck of his life nothing could have prepared The Pundit for what he was about to experience. This is pure raw aggression that turns into an electrifying fuck between two men who hold nothing back. After about an hour of some of the most impressive deep-throating ever caught on camera it was time for The Healer to show The Pundit's hole what "eating ass" is all about.
The Healer made The Pundit spread his legs wide open and dived into his hole with full force as if he had been waiting to do that his whole life. The Pundit was finally starting to get it he had no control over his body and there was no doubt that The Healer was in charge now. The moment The Pundit realized that he had no other choice but to take The Healer's big dick in his holes any way that he decided to give it to him was the moment The Pundit got owned!
Having accepted that fact, The Pundit was ready to experience the fuck of his life. And that's just what The Healer was waiting for! Throwing him from one position into another, The Healer showed The Pundit NO mercy whatsoever! And as is fucking him endlessly in every imaginable position wasn't enough, The Healer had to mark his property by covering The Pundit's entire face with his cum!
They say it's a time for miracles and the fact that The Pundit survived (and actually enjoyed) what The Healer put him through is nothing short of a miracle indeed! Merry Christmas, everybody!
Levi Karter and Jasper Robinson start by hanging out in their hotel room, chatting, flirting, naked. After hanging out for a bit, they head over to the adult video booth to stroke off and suck each others' cocks, and Jasper shoots a huge load all over himself (that's one cum we're keeping count).
Levi and Jasper decide to go home and take a shower to clean up. It was obvious that they were really into each other because neither one of them could hide their monster dicks, which were both rock hard the whole time. After the shower, Levi and Jasper went into the bedroom where they film themselves taking turns sucking each others' huge cocks.
It didn't take long before they both shot their massive loads right into the camera (three cums!)! But the fun wasn't over yet! The boys went out again the next night and Jasper got to meet our very own Frankie V. They flirted for a bit and it didn't take a scientist to know that fucking was inevitable. Back in the hotel room, Jasper and Frankie couldn't keep their hands off each other.
Some sucking, some fucking, and BAM!! Massive loads of cum covered their bodies (SIX CUMS!). These boys really know how to have a good time!
There has been some heavy snowfall and the temperatures maybe a little challenging for black bearded hunk LA dude Sharok, but he is back indoors and happy to be making out with ripped young muscle stud Levi Karter.
Sharok and Levi embrace making out, his lips moving up and down Levi's ripped body returning to kiss his lips.
The horned up dude gets totally worked up as they engage in nipple play with Levi sucking down hard on his nipples.
They tease each other before Levi's unleashes Sharok's big cock and swallows it until it hits the back of his throat making him gag.
Sharok is soon interested in Levi's ass as he leans forward to eat his ass, getting his tongue in between his smooth bubble butt ass cheeks and rimming his hot hole.
They keep going, glued together in a two-fold 69 until Sharok bends Levi over to dominate his ass, pounding him from behind and on top.
Sharok takes a little break to tongue Levi's hole but soon resumes drilling him with increasingly aggressive but affectionate passion.
Sharok takes Levi from the side before lying him back to suck him and rim him.
Soon, Sharok rams into Levi only stopping to give him oral pleasure.
Sharok also gets some cocksucking from Levi and face-fucks him.
Sharok takes him from behind again but soon tosses him on the bed for Levi to ride him.
Sharok wants to see Levi cum and he makes it happen with piston engine fucking until Levi shoots a load hands-free.
This drives Sharok into an intense orgasm inside Levi, who uses his hole to literally squeeze & milk Sharok's cock.
In turn, Sharok soon pulls out to shoot a big thick load again in Levi's crack.
As Levi sits on top of a totally spent Sharok and kisses him, it's clear who was really in control.