All gay porn pics and gay porn videos of Christian Bay.
Hair Color: Brown
Sign: Unknown
Eye Color: Brown
Dick Size: 8 inch dick
Height: 5'9″
Cut / Uncut: Cut / Circumcised
Weight: 165lbs
Sexual Positions: Versatile
Christian Bay scenes at Next Door Studios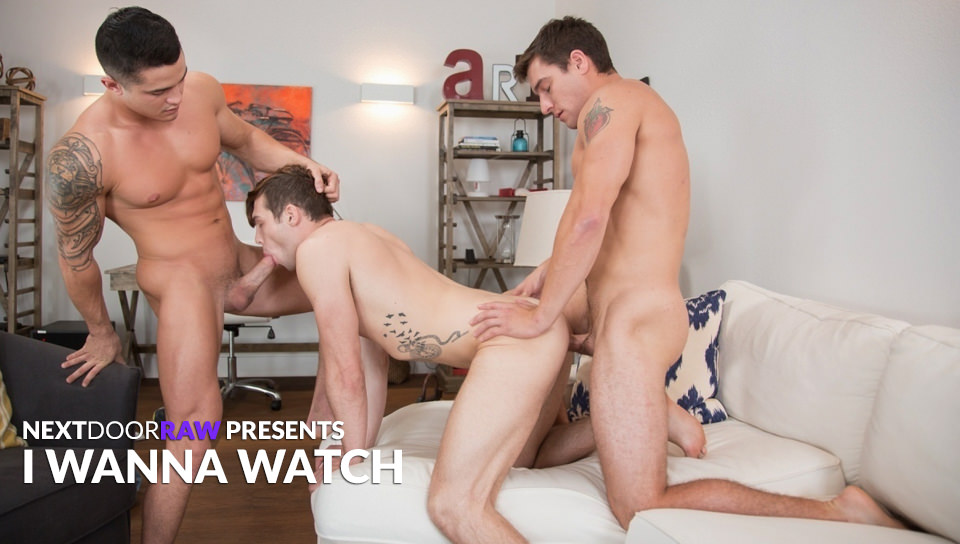 After talking about it with his buddy Jordan Boss, Calvin Chambers finds himself hooking up a different kind of online hookup. Christian Bay is ready, willing and down to fuck, but Calvin tells him he really just wants to watch Christian and Jordan go at it.
Christian seems to be ok with it, and Jordan is definitely down with the program, so as Calvin sits in a corner and strokes himself off, Christian and Jordan go at it, stripping out of their clothes as Christian goes down on Jordan's cock, deep throating him as Calvin looks on.
Jordan returns the favor as Calvin gets rock hard, and he decides to join in after all, standing and making his way over to Christian, shoving his cock in Christian's mouth as Jordan stands and readies himself to plow Christian's hole. Jordan plunges his raw cock deep inside Christian as Calvin continues to face fuck him.
They pig roast Christian who proves to be quite the cock pig. Sweaty and loving it, Calvin tells Christian to sit on his dick and take a ride, and Christian obeys while Jordan looks on.
Calvin fucks Christian to submission and then they switch one more time, positioning Christian on his back as Jordan takes one last crack at Christian's hole, pounding him missionary before pulling out and wetting Christian with his load just as Calvin pulls his dick out of Christian's mouth and gives him a nice facial.
As Christian lay cum covered, he asks if he gets to cum, and both guys tell him he can do whatever he wants, as they leave him lying there, fucked and forgotten…Join them!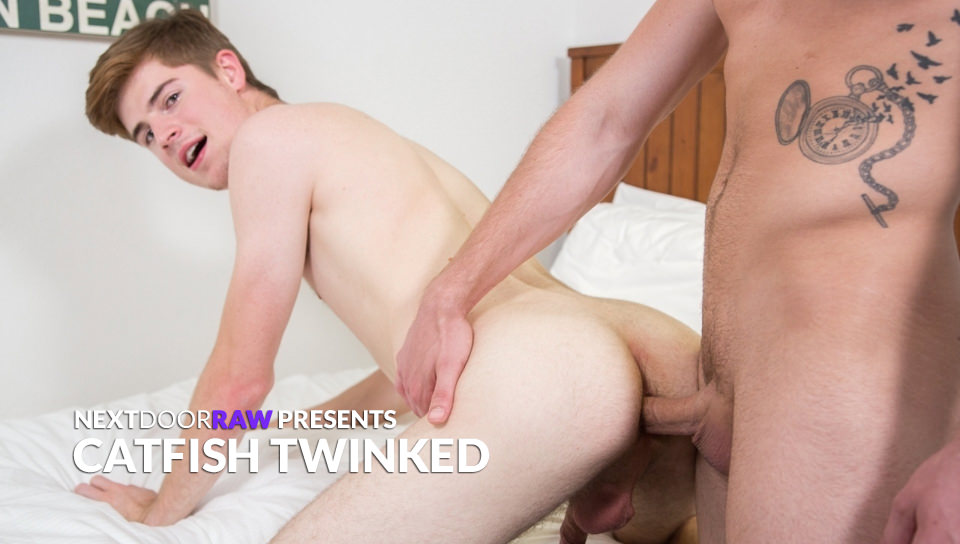 Christian Bay has been talking online with a bona fide stud, who professes that Christian is the apple of his eye, but when he enlists an investigative team to track the IP address, Christian learns that his dream stud is not who he thought it was.
Travis Berkley is surprised, to say the least, when Christian and the Fake Bait team arrive at his house, and he quickly regrets reaching out to Christian, even if his crush is real.
Christian is disappointed to find out the true identity of his crush, but he's more perplexed why Travis, a good looking guy, has to go around catfishing people in the first place.
He tells Travis he never had to do that to get Christian's attention, and leaning down to kiss him, Christian tells Travis he thinks he's perfect.
Closing the door on the Fake Bait cameras, Christian and Travis proceed to work it out between them, but what happens behind closed doors can't stay a secret forever…Join them!
Hiding out in a hotel room paid for with a lifted credit card, Christian Bay figures it's only a matter of time until his mom's boyfriend catches up to him, but what he didn't count on was how mad he'd be when he finally does.
Mark Long is tired of playing Christian's games, so when he confronts Christian in the hotel and Christian gives him lip, Mark decides it's time to mete out some punishment, bending Christian over his knee.
Christian can't believe he's getting spanked like a toddler by someone his own age, but Mark is relentless in his action, stripping Christian's shorts off and smacking his bare ass like a child.
What Mark didn't expect was how turned he'd get from playing 'Daddy'. Mark rubs Christian's ass and soon enough, he's got his pants down around his ankles, with Christian sucking him off.
Mark's giant cock chokes Christian as he deep throats it, and once he's nice and hard, he decides to give Christian a little more punishment, bending him over and shoving his dick inside Christian's waiting hole.
Mark fucks Christian hard, giving a nice raw dicking that makes Christian moan from pleasure, fucking him all over the bed in every position before pulling out his raw cock and wetting Christian with a load to remember.
As Christian lay cum covered and exhausted, Mark smiles, anticipating a much smoother relationship with his potential step-son from here on out…Join them!
Christian Bay scenes at Cockyboys
Justin Matthews is back in town and ready to play. He's heard a few things about how tight Christian Bay is and wants to give him all the attention he craves. A sensual walk down by the pond quickly leads to some hot and heavy making out and before long Christian is begging to suck Justin's cock.
Back at the house, Christian and Justin are more than ready to taste one another. Christian quickly pulls out Justin's cock and is on his knees to take all of it in his pouty, willing mouth. Justin is eager to fill Christian and experience just how tight he really is.
With Christian begging for a hard fucking, they move to the couch. Justin is quick to take Christian's cock in his mouth and suck on his balls; leaving Christian moaning and begging to be fucked again. Justin pushes his rock hard cock into Christian's hole and the pair are close to cumming, but Christian wants to ride Justin's cock.
With Justin relaxing in a chair, Christian enthusiastically straddles Justin and slips his member deep inside him. It isn't long before Christian is stroking himself until he blows his load all over his tight stomach and Justin can hardly contain himself as he grips his hard cock, cumming all over his own chest…Join them!