Every gay porn video and gay porn image gallery of Ripley Grey.
Hair Color: Brown
Sign: Unknown
Eye Color: Brown
Dick Size: 8 inch dick
Height: 5'9″
Cut / Uncut: Cut / Circumcised
Weight: 165lbs
Sexual Positions: Versatile
Ripley Grey scenes at Active Duty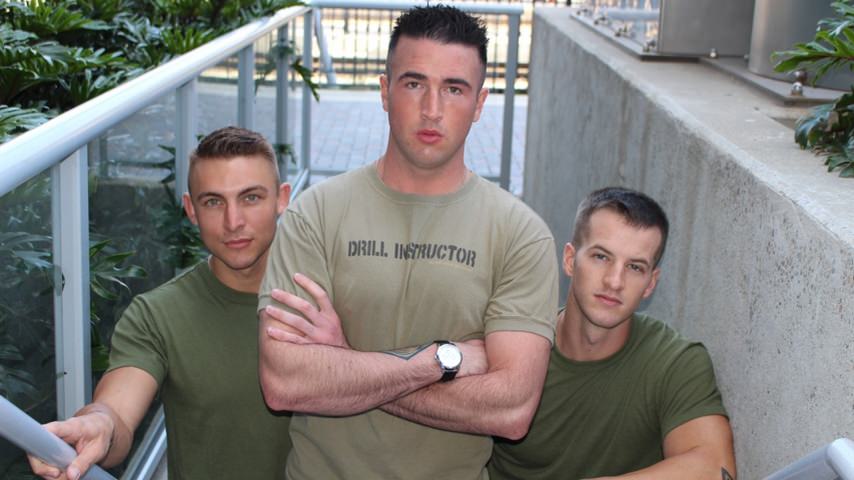 Ripley Grey and Quentin Gainz are hanging out in the armory chatting about how they are hoping today will be a relaxing day but in the background you can hear Jay Ice coming down the hall.
Jay bursts onto the scene, and immediately tells the soldiers to man up and pull their cocks out and begin stroking for him. Jay demands that they reply with, yes Sir, to every command he gives.
Ripley and Quentin obey every word that spews out of Jay's mouth. Jay demands that Ripley start blowing Quentin's cock so it can get nice and hard for his ass later on.
Ripley wraps his mouth around Quentin's dick and gags all over it until Jay barks orders for Quentin to get on his knees and suck on Ripley's huge thick dick.
Jay's had enough and now wants Quentin to fuck Ripley hard and fast. Ripley hears the call and immediately bends his ass over and spreads his cheeks for Quentin's big dick.
Quentin goes balls deep pounding away at Ripley's eager tight hole.
Jay loves the sounds of balls smacking on Ripley. Finally, Jay has had enough and his balls are ready to be depleted.
He tells them to stop fucking and orders Quentin to stroke his nut out on Ripley's chest with him.
Jay and Quentin stroke their dicks until they cum all over Ripley's smooth chest…Join them!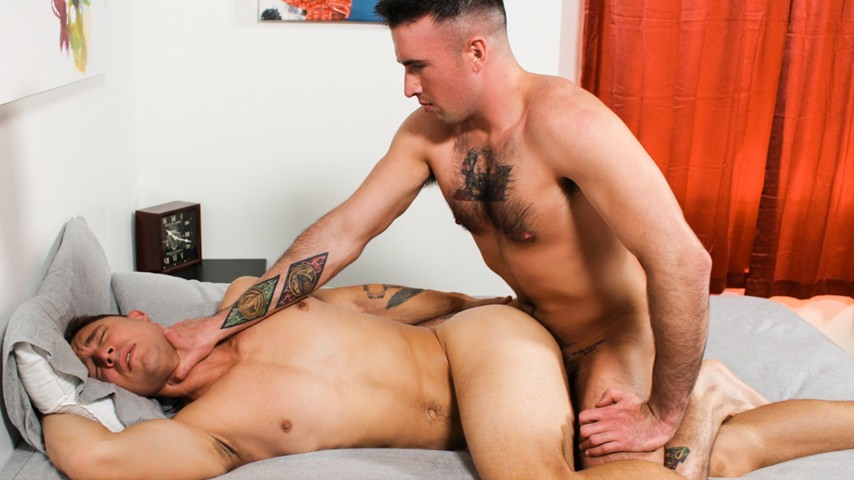 Jay Ice and Ripley Grey are eager to get started as they start sucking each other off right away. Jay is first to get a nice hard cock in his mouth as he gags on Ripley's throbbing dick. Soon after Ripley is gagging on Jay's cock and balls.
They fondle each other's sexy bodies until Jay bends Ripley over and slowly pushes his eager dick into his Ripley's tight ass. Once Jay is in he lets loose and fucks Ripley hard and fast with no end in sight. Jay is a dominant man has he manhandles Ripley.
Jay loves to choke Ripley or is it Ripley loves to be choked?? Either way Jay takes control and pounds that tight hole of his in multiple positions. Finally, Jay needs a break and he pulls his cock out balls full of cum and he strokes his throbbing cock until he showers Ripley with all his warm jizz.
Ripley rubs the cum into his skin as Jay bites on his nipples until Ripley blasts thick loads of cum onto himself…Join them!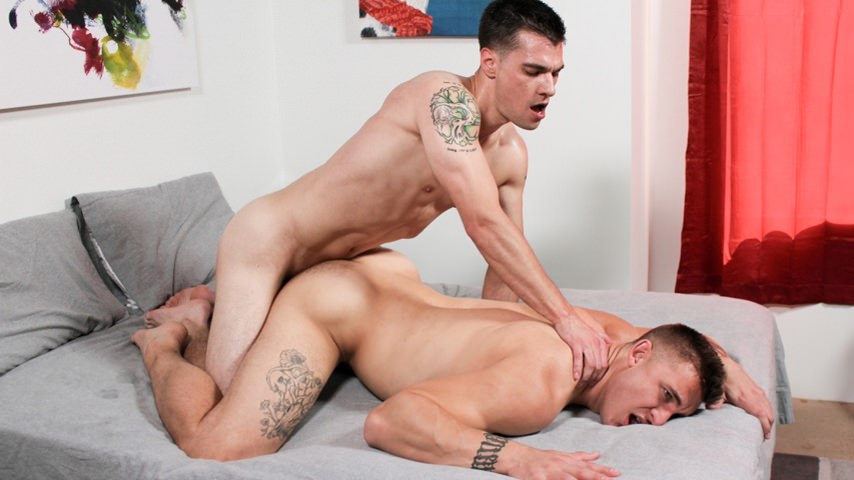 The soldiers come out with a bang right off the bat. It's easy to mistake one for the other as they almost look like twins so keep your eyes on them constantly while they fuck. They swap some amazing BJ's considering both of their cocks are perfect.
Not long after they both have had their fill of cock swallowing Ripley Grey wants that throbbing cock of Princeton Price's deep in his ass. Ripley gets what he wants finally and as Princeton builds up his speed Ripley's moans only get louder and louder.
The intense fucking that Princeton gives Ripley is hard and deep. Ripley loves to comment on how great that hard dick feels as it fucks him. The passion continues to reverberate off these two amazing beautiful men throughout the entire scene.
When we have two soldiers that are enjoying every moment of each other it makes me wish it would never end but sadly it does. Princeton has to pull his dick out and he strokes his nut out onto Ripley's ripped abs and right afterwards Princeton shoves his cock back into Ripley as he continues to fuck him after nutting.
Ripley loves the feel of warm jizz on his ass and finally lets loose his built up load onto himself…Join them!