Every gay porn video and gay porn image gallery of Brock Kniles.
Hair Color: Brown
Sign: Unknown
Eye Color: Brown
Dick Size: 8 inch dick
Height: 5'9″
Cut / Uncut: Cut / Circumcised
Weight: 165lbs
Sexual Positions: Versatile
Next Door Studios gay porn scenes of Brock Kniles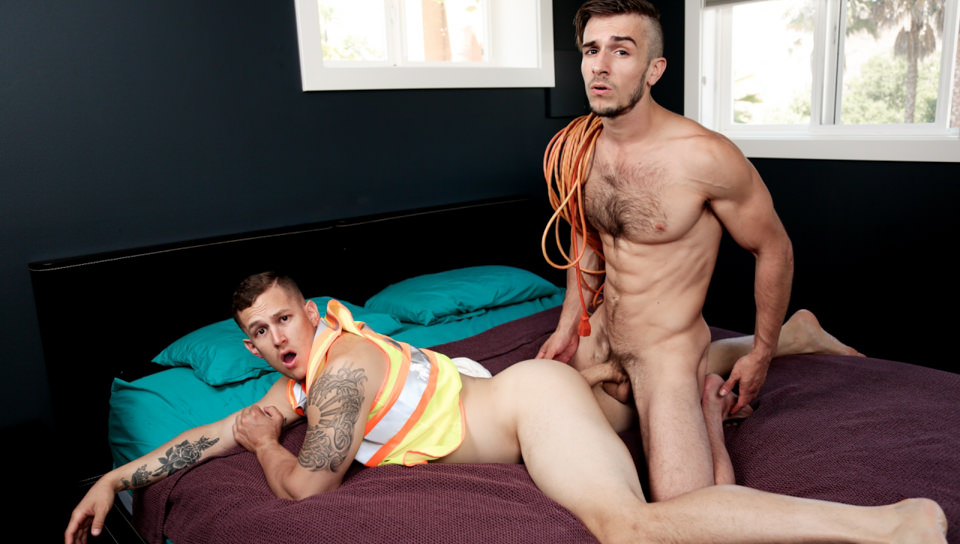 Brock Kniles is no stranger to the occasional incident at the job- you do it long enough and you're bound to see just about everything once- but he's never had any training to deal with the situation in front of him.
It's not that he's never had a client get naked while he was working, and it's not even the first time he's stolen a look through the window for a cheap thrill, but when Donte Thick invites him in, Brock is at a loss for how to feel.
He swore when he woke up this morning that he was a regular ham & eggs kind of red-blooded straight guy, but here he is watching another guy jerk off and the bulge in his pants is too obvious to deny.
For Donte, fucking a blue collar stud while he's on the job is already turn on enough, but when Donte finds out it's Brock's first time, well let's just say the reward of his risk far exceeds even his wildest imagination.
Lucky for him, he doesn't have to imagine any longer…Join them!
Next Door Taboo gay porn scenes of Brock Kniles
Sexy stud Brock Kniles and stepbrother Dakota Payne are reeling after finding out some news about their extended family.
Dakota Payne is really not happy about it.
The only person he likes in his family is his stepbrother Brock Kniles.
Dakota might have to rely on Brock if he wants to not lose his mind living with his new family.
Active Duty gay porn scenes of Brock Kniles
Horny young army recruits Brock Kniles and Adrian Duval's big dick anal flip flop fucking.
Brock and Adrian flip fucking?
What more can you ask for, really?
Army muscle dude Brock Kniles's huge thick dick bareback fucking ginger stud Noah Quinn's bubble butt.
When Brock Kniles says that he's gonna manhandle Noah Quinn you better believe him.
Don't believe me?
Then watch it here.
See all Brock Kniles gay hardcore fuck sessions at Active Duty here.
See all Noah Quinn gay hardcore fuck sessions at Active Duty here.
Just off base these military guys Brock Kniles and Kyler Drayke are horny for gay ass watch them fuck.
Kyler Drayke and Brock Kniles have intense chemistry; look at how they act before they finally get to fuck.
When Kyler finally gets to top Brock, sparks definitely fly.
See all Brock Kniles gay hardcore fuck sessions at Active Duty here.
See all Kyler Drayke gay hardcore fuck sessions at Active Duty here.
Hot ripped muscle stud Zack Lemec strips naked wanking his huge thick dick.
This worship scene with Zack Lemec is one my most favorites session to date. His amazing body, charm, sexy moves made this moment a fantasy come true.
So I'm really excited to release this unedited enhanced version.
See all Zack Lemec gay hardcore fuck sessions at Maskurbate here.