Hair Color: Brown
Sign: Unknown
Eye Color: Brown
Dick Size: 8 inch dick
Height: 5'9″
Cut / Uncut: Cut / Circumcised
Weight: 165lbs
Sexual Positions: Versatile
Scott V scenes at Active Duty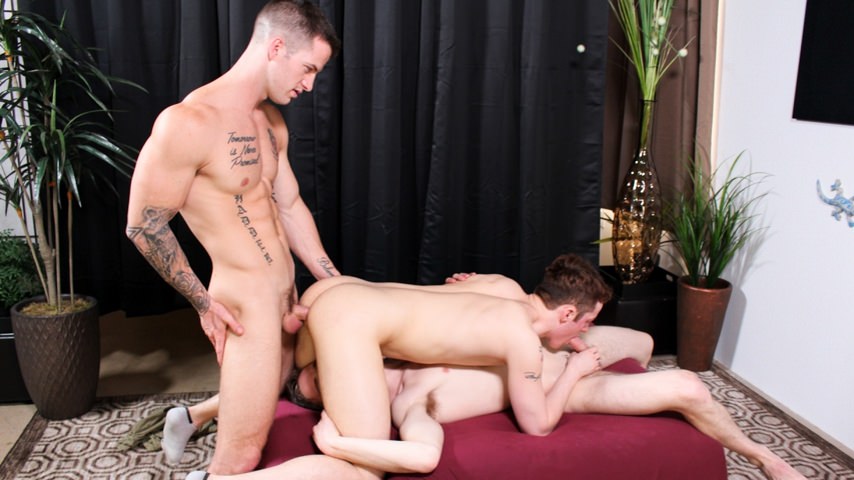 These three hunks begin blowing each other in beautiful fashion on the bed. They get in a circle of motion and all mouths have cocks in them or a sexy ass. Quentin Gainz takes the lead and shows the young bucks how it's done as they shift from one position to another kissing and rubbing their bodies.
Quentin's always first to go deep in that ass as he fucks both Scott V and Dominic before handing off the reigns to his fellow vets.
There is so much hard pounding going on its hard to pay attention to the dick sucking and ass rimming as well but once you take it all in and feast your eyes on all the glory you realize that the ending is going to be cum drenching.
Sadly this sexy power team comes full circle as Dominic gets his chest blasted full of cum by Scott and Quentin as well as his own big load. It's a beautiful site to see all these creamy loads in one full shot…Join them!
Oh boy, these two recruits are a couple of my recent favorites. It's Princeton Price along with Scott, a matchup I can't believe we're having for the first time. Princeton makes the first move, leaning over and taking Scott's hard dick into his mouth.
I love Scott's big, thick cock. Claude gets close up to show us how sexy Princeton looks as he services that throbbing erection. After a little while on the bed, the guys stand up so Princeton can continue to slurp Scott's hard dick, and jerk his own dong at the same time.
The guys move back to the bed, where Princeton goes to his knees while Scott gets a taste of some nice cock for himself. As Scott enjoys Princeton's stiffy, Princeton bends forward, playing with Scott's tight hole. Then Princeton spreads those incredible cheeks and licks Scott's tight, tender hole.
Princeton makes sure to tug Scott's cock a bit while he rims. Oh what a beautiful ass on that boy! Princeton really gets in there, licking from every possible angle. Now at this point you might think Scott would be taking Princeton's dick into his ass.
Not this time, it's Princeton's who's getting stuffed full of Scott's big, throbbing boner. My goodness, this gets hot! We've seen a lot of progress from Scott and I think mostly in the area of pounding ass. This here is a testament to how far he's come with us.
Just watch the power Scott has as he slams Princeton's ass and jerks his dick at the same time. I just have to hand it to these boys; they've both come a long way. It's been a joy to watch their progress and know that they're heading in the right direction.
The payoff, this time, for their hard work is blasting their loads and feeling that satisfaction…Join them!
This one is kind a fun little jump backward in time. Here we have now veteran, Dante, and that sweet, fresh-faced recruit, Scott. Claude chats a little while before letting the guys get comfortable with each other. Dante doesn't waste too much time before pulling out his dick and working it chubbing it up.
Scott's eyes get bigger when he sees that throbbing thing and Dante invites him to have a taste. But Claude sees Scott's rookie reluctance and suggests Dante go in first, and suck Scott's hardening cock. With a big smile, Dante obliges and takes Scott's beautiful dick into his mouth.
When Dante lays on his back again, Scott doesn't hesitate this time to blow him. Gosh, Scott's a newbie but I can tell by the way he puts his heart and soul into slurping down Dante's swollen dong that he has so much potential. And then Scott goes to his feet to get some more head from Dante.
Now we know Dante can handle some cock down his throat, but Scott sure tests his limits here. He puts a hand behind Dante's head and face fucks him good. Since Dante did such a great job sucking that stiffy, Scott decides to let him fuck his ass. On his back, Scott takes Dante's hard cock.
It's a slow, steady squeeze getting that big dick in there at first, but once Dante gets into a good stride, he opens fire and lets Scott have it. Then Scott turns around and Dante gives him a good doggy style pounding. Scott turns onto his side a little bit so he can continue getting fucked, but also look at Dante.
Then, before they're done, Scott goes completely to his back again, this time jerking his dick until it erupts, blasting a hot load all over his stomach…Join them!